BOLERO SONGS, STORIES AT THE CARVER
Jose Ruben De Leon learned to love music as a baby.
"I was a colicky baby and my parents sang to me to calm me and put me to sleep," explains the playwright/musician. "That was the only thing that worked." To make it easier on the parents, his grandfather eventually purchased a little radio which was placed on the crib to be the source of the soothing music the child seemed to need.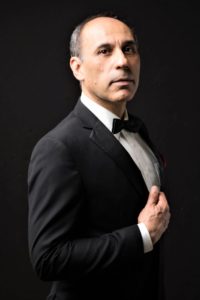 When he grew up, De Leon earned a BA in theater arts and followed that up with a master's in pastoral liturgy, but he never sang solo in public until writer Sandra Cisneros, who lived in San Antonio at the time, encouraged him to do so after he sang at an event in her home. She was right. Since then, De Leon has become known for his own productions of theatrical dramas that combine song with narration to focus on the life and work of a famous artists. Two very successful previous shows explored the times of Spanish poet Federico Garcia Lorca and the story of prolific Mexican composer Augustin Lara, respectively.
De Leon's latest work, "El Corazon de Bolero" expands this approach to embrace an entire music genre, the bolero, which was popular in the 1920s, '30s and '40s in Cuba, Mexico, Puerto Rico and beyond. This Saturday, he will perform "El Corazon" at the Little Carver Civic Center on the campus of the Carver Community Cultural Center. Two outstanding musicians, the father-son duo, George and Aaron Prado, will accompany him. "I am always excited to work with the Prados and I love that they always add a hint of jazz to the music," said De Leon.
The three will take you on a journey through bolero lands and history by performing pieces by 15 male and female composers, including Lara, Maria Grever, and Consuelo Velasquez from Mexico, and Adolfo Utrera, Osvaldo Farres and Isolina Carrillo from Cuba. Velasquez wrote what is probably the most popular bolero of them all, "Besame Mucho." The program also pays tribute to Jose Pepe Sanchez, the father of Cuban bolero, who wrote the lovely melancholic song "Tristezas"  back in 1885..
The lyrics are as appealing as the melodies, noted De Leon. These are songs of love, pain and romance that even Nobel Prize winner Gabriel Garcia Marquez praised for their succinct but powerful eloquence.
Though this show has not been recorded yet, CDs of De Leon's former stage works and song collections are available through his website www.joserubendeleon.com.
Show time is 8 p.m., Saturday, Dec. 16; Little Carver Civic Center, 226 N. Hackberry; Tickets are $25 and can be bought at the Carver's box office (210-207-2234) or via Ticketmaster.
—————————————————————————————————————————————–