Some years ago, I devoted one of my ArtBeat articles In San Antonio Woman magazine to Eva Ybarra, one of the very few women accordionists in conjunto music, a recipient of multiple awards and the inductee into several conjunto halls of fame, here in San Antonio and beyond. At the time, I was struck by her dedication to her music, which seemed to be her life. In addition to playing, songwriting and recording, she has also been teaching aspiring musicians not only how to play the accordion but also to carry on the Texas conjunto tradition into the future.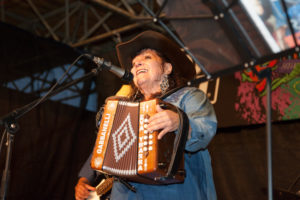 So, I was not at all surprised when she was recently chosen to receive the 2017 National Heritage Fellowship award from the National Endowment for the Arts, the country's highest honor in the field of folk & traditional arts. Nominated by the Tejano Conjunto Festival founder Juan Tejeda, she traveled to Washington D.C. a few weeks ago to receive her award – which includes $25,000 – and perform with her band Eva Ybarra y Su Conjunto. Upon her return, Ybarra was feted at a special celebration in her honor hosted by the Guadalupe Cultural Arts Center and Trinity University. The Guadalupe is the organizer of the Tejano Conjunto Festival and also the place where Ybarra teaches accordion classes.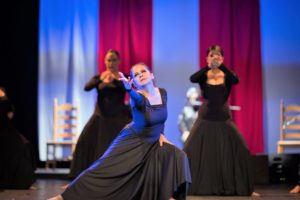 And the Guadalupe Center has even more reason to rejoice right now. One of their own long-time employees and arts leaders, Belinda Menchaca, has earned accolades and honors in recent months as well. An excellent dancer of both flamenco and Mexican folkloric genres, Menchaca led the Guadalupe Dance Company for years, working with guest choreographers from Spain to present ever more sophisticated flamenco shows to San Antonio audiences year after year. She was also the founder of the dance academy which she continues to oversee as the current Education Director at the center. During her 25 years of service, Menchaca worked in other capacities as well, such as programs manager and PR/marketing director. She was instrumental in developing outreach programs in schools which introduce students to the dance genres she so well knows and loves.
The City of San Antonio has bestowed one of its Distinction in the Arts Award for 2017 on Menchaca, while the Hispanic Chamber of Commerce has honored her with its Service Award, given annually at the "Making a Mark on the World" Women's Awards event.
As a long-time arts reviewer, I can't think of a person more deserving to be recognized for her contribution to the dance art in San Antonio, and for her steadfast loyalty to the Guadalupe, which has gone through a number of transitions in recent times.
Congratulations to both ladies!
——————————————————————————————–Photos (from top): Eva Ibarra; Belinda Menchaca, center front