Stories from the Voices Within
April 26 @ 7:30 pm
|
Recurring Event
(See all)
One event on April 26, 2021 at 7:30 pm
$15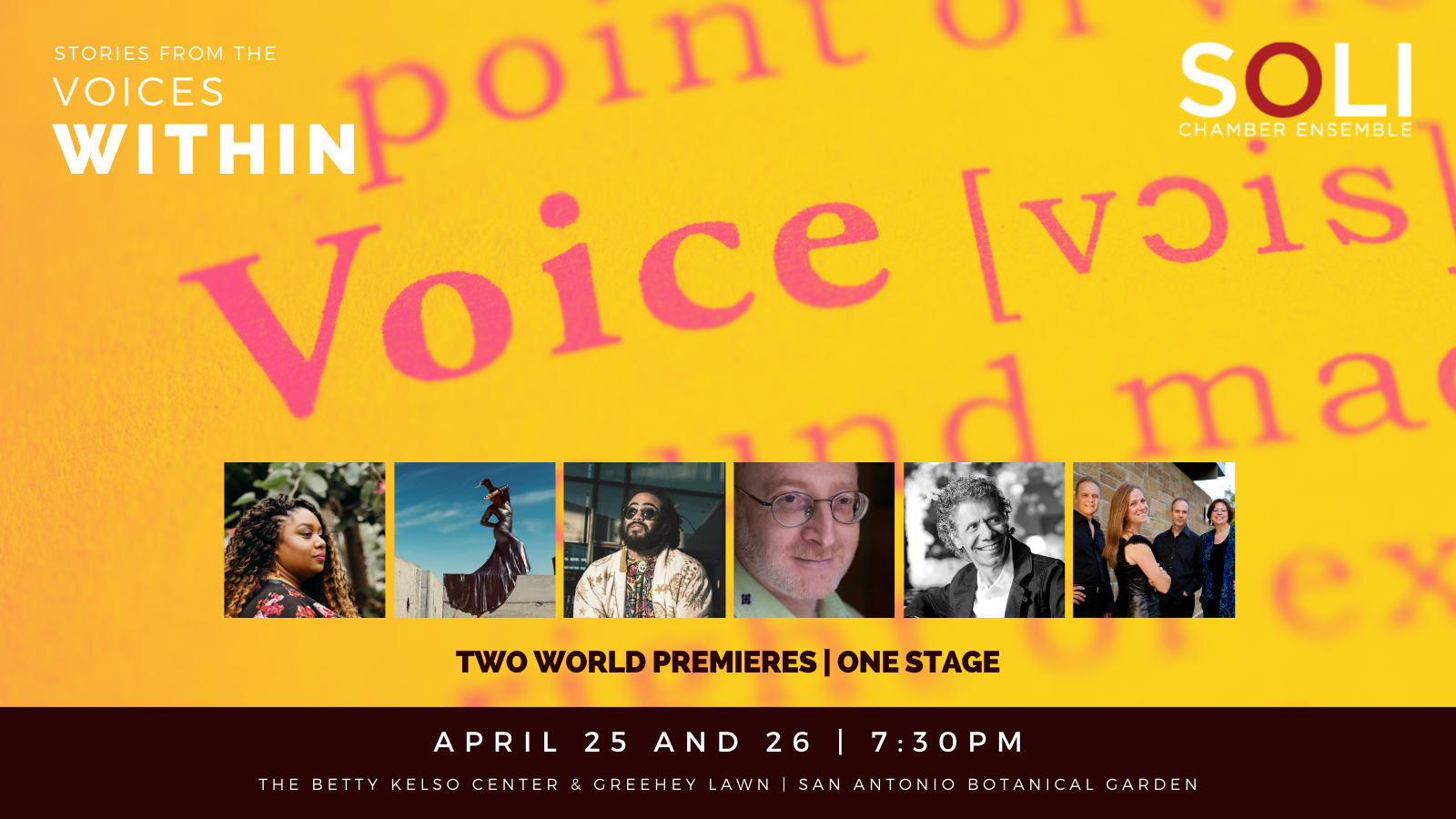 SOLI Chamber Ensemble continues its season at the San Antonio Botanical Garden with Stories from the Voices Within – featuring two world premieres and special guest appearances by San Antonio Poet Laureate Andrea "Vocab" Sanderson and flamenco artist Tamara Adira. 
SOLI will present the world premiere of Pulitzer Prize-winning composer Aaron Jay Kernis' Elegy for those we lost. Originally written as a solo piano work in collaboration with filmmaker Esther Shubinski and released on YouTube as a memorial to victims of COVID-19, Kernis has arranged the work for violin and piano for SOLI musicians Ertan Torgul and Carolyn True. SOLI will also honor the passing of jazz piano giant, Chick Corea, and offer a selection of his Children's Songs. 
The centerpiece of the concert will be the world premiere of San Antonio-native Darian Donovan Thomas' ((HERE)), an extended work for SOLI, electronics, vocalist (singing, rapping, and narrating), and androgynous dancer. Thomas sources texts and song material from San Antonio Poet Laureate and Hip-Hop artist Andrea "Vocab" Sanderson, who collaborated with Thomas on the commission. ((HERE)) tells the story of the BIPOC experience, past and present, through a signature blend of styles – contemporary classical, '80s hip hop, and flamenco all unite together in a joyful statement of strength and solidarity. Featured artists for the performances include Sanderson and noted flamenco dancer Tamara Adira. 
SOLI Chamber Ensemble is honored to partner with the San Antonio Botanical Garden to produce its 2020 – 2021 season LIVE in an outdoor, safe, natural setting. Concerts will be staged from the Betty Kelso Center as the audience engages in SOLI's exciting and imaginative program from the comfort and safety of the Greehey Lawn. Please review SOLI's health and safety protocols for additional information. 
PROGRAM 
Elegy for those we lost (2020/2021) World Premiere ……………………… Aaron Jay Kernis (b. 1960)
for violin and piano with video projection
movements from Children's Songs (1972-1983) ………………………………… Chick Corea (1941-2021)
for solo piano
((HERE)) (2021) World Premiere ……………………………………….. Darian Donovan Thomas (b. 1993)
for clarinet, violin, cello, piano, electronics, vocalist (singing, rapping, and narrating), and
androgynous dancer
SOLI Chamber Ensemble has been giving voice to 20th- and 21st-century contemporary chamber music since 1994, mesmerizing audiences for nearly three decades with their engaging performances, ensuring the future of new music through educational initiatives, and continually renewing their commitment to the music of living composers through performances and commissions. Winner of the 2013 Chamber Music America and ASCAP Adventurous Programming Award and a 2020 Chamber Music America Classical Commissioning Grant, SOLI continues to champion new works, new contexts, and new audiences for the music of our time. 
SOLI IS… 
An avid performer of contemporary music, STEPHANIE KEY is the founding and current Artistic Director of SOLI Chamber Ensemble. She received her BM with Distinction in Performance from New England Conservatory in Boston, and she has performed with many orchestras and ensembles across the country and internationally. She is Associate Principal and Eb Clarinetist with the San Antonio Symphony and serves on the music faculty at Trinity University. Ms. Key is a designated Artist with Buffet Crampon, makers of fine wind instruments. 
Turkish-American violinist ERTAN TORGUL balances a full calendar of national and international recital engagements, chamber music concerts, and solo appearances. He has been SOLI Chamber Ensemble's violinist since 1996, served as Artistic Director from 2012 to 2019, and was PO Box 6062 | San Antonio, TX 78209 | solichamberensemble.com 
the group's Managing Director from 2011 to 2020. Mr. Torgul is a member of the SUONO Duo/Trio, Quartet ES, and Quinteto Quilombo. He serves as Lecturer of violin & chamber music at UC Santa Barbara and as Affiliate Artist in violin at the University of Houston. 
Cellist DAVID MOLLENAUER received his Bachelor and Master of Music degrees from The Juilliard School with Harvey Shapiro and continued his studies with Lynn Harrell at USC. He has performed across the U.S., Central America, Europe, and Asia. An avid chamber musician, Mr. Mollenauer is a founding member of SOLI, Assistant Principal Cello of the San Antonio Symphony, and teaches cello at Trinity University. 
An inaugural member of the Steinway Music Teacher Hall of Fame, prize-winning pianist CAROLYN TRUE is Professor of Music at Trinity University, and a core member of SOLI Chamber Ensemble since 1996. She walks the delicate balance between teaching and actively performing solo, chamber, and orchestral repertoire on the national and international stage. Ms. True holds the prestigious Performers' Certificate and a DMA from the Eastman School of Music. 
GUEST ARTSTS… 
ANDREA 'VOCAB' SANDERSON is the 2020-2023 Poet Laureate of San Antonio. Sanderson teaches poetry workshops, mentors, builds up and encourages artists to pursue their art, and gives them platforms to showcase their talent. Her poetry is published in The Texas Observer, Pariah Anthology SFA Press, and Sycorax's Daughters, Cedar Grove Publishing. Her debut book entitled: She Lives In Music, published on Flower Song Press, was released on Valentine's Day 2020 and her album She Tastes Like Music, is available on all music streaming platforms. She has received awards from the SEA Awards, Project Forward, the Dream Week Commission, and the Luminaria Artist Foundation. 
TAMARA ADIRA is a dancer, choreographer, and producer. She is the Founder and Artistic Director of Arte y Pasión a company known for pushing the boundaries of Flamenco and Spanish dance in contemporary themes and specific subject matter. Tamara is known for her work across mediums, bridging gaps between music, cultures and media. She was recognized by Eleanora Magazine in 2018 as one of the Top 50 Women to Watch in Texas and is a Luminaria Artist Foundation award winner.