Dear readers,
You haven't heard from me in a while! I spent a few weeks in Europe last month and had to hit the ground running upon my return, working on a bunch of stories. Our magazine, San Antonio Woman, is celebrating its 15 anniversary this fall, so I was focusing on that. Fifteen years of successfully serving San Antonio readers is a pretty nice thing, wouldn't you agree?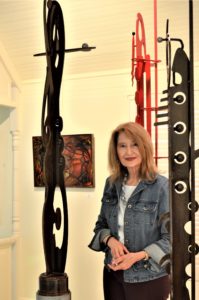 Today, I want to let you know about two visual arts exhibitions in town that deserve your attention. You have two more days to see the amazing work of James Wyatt Hendricks at the San Antonio Art League & Museum (130 King William; 210-223-1140). The Art League's Artist of the Year for 2017, Hendricks is a highly visible and respected artist whose works cover a range of media, from painting and drawing to metal (steel, cast bronze), glass and granite. He draws inspiration from the many shapes and aspects of nature as well as the industrial/urban environment, giving his pieces unexpected, frequently semi-abstract and interpretive elements. "My goal is to touch someone's emotions, to have them feel what I might feel," he says in his artist's statement. The exhibit is beautiful and memorable.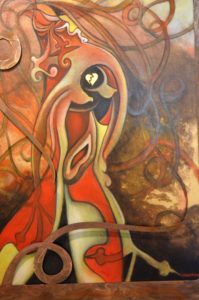 Miles away, in mid-town, Bihl Haus Arts (2803 Fredericksburg Rd., 210-732-3502) is getting ready for a "crazy cool" Saturday night bash to celebrate the opening of Golden Decade, the 10th anniversary show of Bihl Haus' GO! Arts Program. The exhibit features 60 juried paintings and drawings, plus three group murals, created by the so-called Goldens enrolled in the program. The name refers to older people who have taken Bihl Haus-sponsored classes at 16 senior centers and residences across San Antonio. From what I have seen, some of them are very accomplished artists.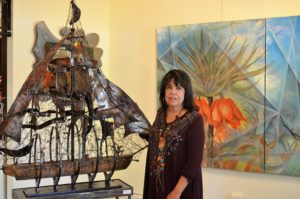 Guests at the Saturday night party will be invited to "dance the night away" to the smooth strains of Johnny P and the Wiseguys, who sound just like the famed Rat Pack.
The Go! Arts Program was the subject of an academic study that looked at the impact involvement with the creative arts has on healthy, happy aging. In fact, the study's authors, Adelita Cantu, Ph.D. and K. Jill Fleuriet, Ph.D., will hold a panel discussion on the topic on Nov. 4 at 2 p.m. The exhibition closes Nov. 17.                                                    ————————————————————
Photos (from top): Yours truly with "Urban Towers" by James Hendricks; "Broken Heart," painting  by James Hendricks; Art League's president Lyn Belisle in the gallery.