As many of you already know I love dance, all types and forms, from ballet to folkloric dancing of many cultures. Being a country of immigrants, the United States is home to countless ensembles of folk dancers that cultivate the folkloric traditions of their ancestors. A good number of these will be represented once again at the San Antonio Folk Dance Festival scheduled this year for March 17-19 on the campus of Our Lady of the Lake University (OLLU). The gala concert showcase will take place March 18 at the school's Thiry Auditorium.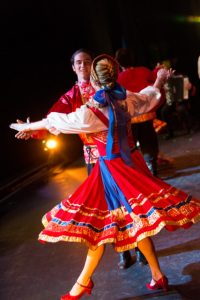 I have attended several concerts over the years and can tell you that they are always enjoyable and educational even though the quality of presentation can be somewhat uneven. There's simply nowhere else that you get to see dances of Russia, China, India, and, say, Poland, all under one roof, on the same evening.
This year's lineup includes the Houston-based Russian ensemble Uzori; the Panamian Folklore Dancers from Killeen, TX ; the Zavičaj Serbian Dancers, also from Houston; the Hula Halua Ohana Elikapeka Polynesian group from San Antonio;  the Komenka Dance Ensemble from New Orleans, and several other local troupes performing Spanish, Scottish and Turkish dances.
Founded by Nelda Drury 59 years ago, the fest is now organized by a committee of volunteers under the auspices of the non-profit organization Texas International Folk Dancers. Mrs. Drury, who is now 99 and still going strong, continues to provides advice and guidance. I fondly remember an evening of dancing at her house years ago, when she had brought to town the excellent Miroslav Bata Marčetić Serbian Folk Ensemble from Toronto. It was an impromptu gathering the day before their stage appearance and a very happy and aerobic party. The group returned a couple more times after that, and was eventually given its own evening concert to please festival audiences.
Though the company is not participating this year, Mr. Marčetić will be here for the duration of the fest as one of the workshop teachers. Another teacher is Andy Taylor Blenis from Boston, who will set a original piece on the Alamotion dance group, one of the youth dance ensembles of the city's Parks and Recreation Department. From the description in the press release, it sounds like the piece is going to be a Scottish dance-inspired modern dance work. Ms. Taylor Blenis is an experienced teacher of folk dances from multiple countries, including Portugal, Scotland, France, Armenia, Mexico and others. Ahmet Luleci will teach Turkish dances.
In addition to Texas International Folk Dancers, the fest is also sponsored by the Texas Commission of the Arts. All workshops will take place at the OLLU's International Folk Culture Center, 411 S.W. 24th St., 78207. (for schedule and other details visit www.safdf.org). The showcase concert is a fun event where you feel like everyone loves everyone else, or at least they are all smiling warmly at you.
—————————————————————
Photos: (left)Serbian Fold Dance Ensemble Zavicaj; (right) Russian Uzori Folk Dance group