The holiday season is now in full swing with all sorts of fun, festive and uplifting events all across town. It's not easy to choose where to go and what to see but here are a few suggestions.
I usually like to focus on San Antonio arts and artists but I must make an exception for one exceptional lady, the enduring, charismatic superstar Dolly Parton, who will have a single  concert at the Tobin Center Thursday, Dec. 8. A few weeks ago, I watched her being feted as the guest of honor and recipient of the Lifetime Achievement Award at the Country Music Awards show. For the occasion, an illustrious group of female stars sang her songs as a tribute to the honoree, but none sounded as good as Dolly does. What Parton has is one of the rare truly unique voices not only in country music but in popular music as a whole. The moment you hear it, you recognize it. In addition, she is a talented songwriter and multi-instrumentalist.
Her current Pure & Simple tour is named after the eponymous album released last summer. The San Antonio show is a fundraiser for the Tobin Center's Generation NEXT Education Initiative and the tickets are pricey: $95 to $1,000. (for tickets: 210-223-8624 or tobi.tobincenter.org)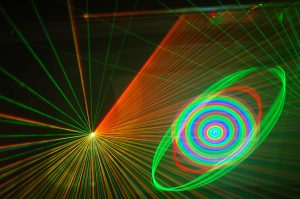 If you can't get to see Dolly or can't afford the tickets, there are many wonderful options out there to have a good time and get into a holiday mood. URBAN 15 is presenting its 12th annual Holiday Laser Show Dec.6 at the Lila Cockrell Theater for only $10-$15. Though I have not personally seen one of these visual extravaganzas, I have heard enthusiastic reports from people who attended in previous years. A collaboration between laser artist Tim Walsh and composer George Cisneros, the show consists of beautifully choreographed laser beam "dances" performed to both traditional Christmas tunes and experimental electronic music. Tickets are available at the Alamodome box office or at the door. For more info call 736-1500.
For a different kind of spectacle, visit the Woodlawn Theater to enjoy a great production of Lloyd Webber's exuberant rock musical, Joseph and the Amazing Technicolor Dreamcoat, which continues through Dec. 23 (weekends only). Directed by the capable William McCray with choreography by Michelle Pietri, the show is based on the Biblical story of Joseph who gets sold into slavery by his jealous brothers. With catchy, upbeat songs, this is the perfect holiday entertainment for young and old. (tickets: 67-8388 or www.woodlawntheatre.org)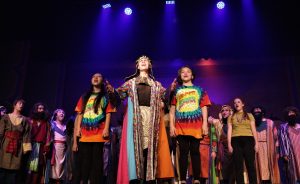 More festive and inspirational music will be delivered by the Austin-based, Grammy-winning Conspirare vocal ensemble, which takes the stage Dec. 7 at the Tobin Center for the Performing Arts. The press release describes their Conspirare Christmas concert as "a luxurious musical fabric of pop, folk, classical and season favorites, meticulously woven together by arranger/composer Craig Hella Johnson…" Guest artist is the California-based singer/songwriter Matt Alber, a former member of the Chanticleer vocal group. I am familiar with Conspirare and I can tell you that its music is indeed inspirational! (tickets:223-8624 and at Tobin box office, 115 Auditorium Circle, 78205)
Happy December! You'll hear from me again soon. 'Tis the season for packed calendars.
—————————————————————————
Photos: URBAN 15's Laser Show; the Conspirare Ensemble; "Joseph and the Amazing Technicolor Dreamcoat"