If you are looking for an outing that combines exercise, enlightenment and fun this weekend, I have a suggestion: take the On and Off Fredericksburg Road Studio Tour. More than 70 artists will be showing their work at 50 locations along the Deco section of Fredericksburg and throughout the surrounding neighborhoods of Alta Vista, Beacon Hill, Monticello Park, Los Angeles Heights, Jefferson and Woodlawn Lake. It's a unique opportunity to view – and buy – so much original art and get to know the artists.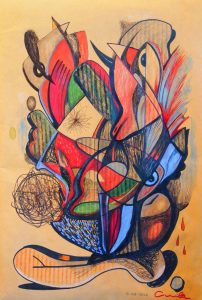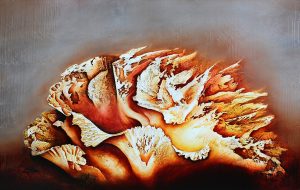 Norman Avila:"What's the Matter," mixed media      Russell Stephenson: "Presence," Oil on Panel
The two-day event, Feb. 20-21, is the brainchild of Bihl Haus Arts founder and executive director Kellen McIntyre, one of the most dedicated and tireless art advocates and leaders in town. Now in its 9th year, Fred, as the event is often referred to, is a self-guided art walk – or drive -that begins at Bihl Haus Arts (2803 Fredericksburg Rd.) where you can buy the handsome catalog and get a map of participating locations. As you walk around, look for yellow balloons and yard signs. You'll see art in all possible media – painting, sculpture, jewelry, fiber works, photography, ceramics, installations, prints, etc.  Musicians, dancers and poets are also scheduled to appear at different locations throughout the weekend. Bored you will not be, I promise. And it's all free except for the modestly priced catalog. BTW, you can save $5 by buying the catalog in advance at several places, such as Barnes & Noble at La Cantera, the Twig bookstore, Deco Pizzeria, Junction, and Vee's Hair and Spa. The addresses are listed on the Bihl Haus Arts website (www.bihlhausarts.org)
Some of San Antonio's best known artists live and work in the area, including Danville Chadbourne, Margaret Craig, Jane Dunnewold, David Rubin, Kathleen Trenchard, Rolando Briseno, David Zamora Casas, Angel Rodriguez-Diaz, Ben Mata and many more.
The festivities kick off Friday night at Bihl Haus Arts with the Autograph Party (6-9 p.m.), called that because artists will be happy to sign your catalog. The tour hours are 11 a.m. to 6 p.m. Saturday, and noon to 5 p.m. on Sunday.  It all takes a bit of stamina but there are restaurants around to provide nourishment and liquid refreshments.
And while you are in the area, complete your weekend experience by seeing "The Seagull" at the Classic Theater in the Woodlawn Theater building. It's a wonderful play that will have you thinking and talking about it for a long while. Trust me on this one! (www.classictheatre.org).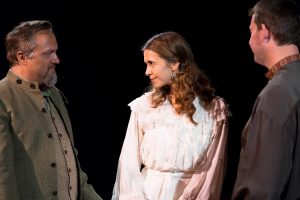 Actors Jonathan Pollei, Julya Jara and Michael Holley in a scene from "The Seagull."