Above: Ruth Jean Gurwitz
Two respected San Antonio musical organizations will be officially announcing their merger Saturday at a special event at the Roosevelt Library. Joining forces are Musical Bridges Around the World (MBAW) and the San Antonio International Piano Competition (SAIPC), which will be renamed the Ruth Jean Gurwitz International Piano Competition in honor of its late founder.
The move was prompted by SAIPC which was finding it increasingly difficult to run a high-caliber international competition with an all-volunteer cadre and fewer available volunteers. "We didn't have the personnel to keep the competition on the forward edge," said Anne Johnson, the immediate- past board president and long-time volunteer.  Founded in 1983, SAIPC has since held competitions every three years, and started commissioning new works for the finalists to perform in 1991. The young pianists were hosted by San Antonio families and all top performers were awarded substantial monetary prizes. No one wanted to see the competition die; it had become an integral part of the San Antonio musical scene.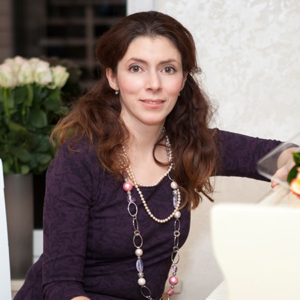 Above: Elena Portnaya
After examining all possibilities, the board voted to join forces with another entity and MBAW looked like the best choice. Not only is it a successful and growing organization, but its CEO and artistic director, Anya Grokhovski, is herself an accomplished classically trained pianist with a doctorate in piano performance.
"I have been supportive of the piano competition and they knew that," explained Grokhovski. "We promised them that the competition would continue under our auspices. It will become one of our programs."
Musical Bridges, whose mission is to bring music and musicians from different traditions and cultures to  San Antonio, offers a full season of chamber concerts in various venues – including a free Sunday series at the San Fernando Cathedral – as well as an International Music Festival which brings to town innovative artists of all types. In addition, the organization has a strong children's program called Kids to Concert and the Golden Age outreach that produces concerts in nursing homes and retirement communities.
The next piano competition is scheduled for 2020 and it will be managed by a committee that includes former SAIPC board members. SAIPC has also transferred its financial assets to MBAW. "The time frame allows us to look at how other prestigious competitions in the world function and we are going to learn from them," said Grokhovski. "I want to make sure that we are doing it on an international level and I want it to become well-known."
Saturday's celebratory event will feature a special performance by pianist Elena Portnaya, an alumna of the Moscow Tchaikovsky Conservatory who also earned a doctorate in musical arts from UT Austin. She has performed in Russia and many other European countries and has received multiple awards at piano competitions in Russia, Poland, Portugal and in Austin.
By Jasmina Wellinghoff, Arts Editor