The San Pedro Playhouse has been a beautiful home for live theater in San Antonio pretty much continuously since the city built it in the center of San Pedro Park in 1930. Few playhouses have a better setting. The first resident organization that occupied the now iconic building for decades was the San Antonio Little Theater or SALT, a community theater group which staged innumerable plays and musicals and created an audience for the thespian art in the city.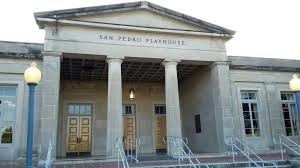 With the passage of time and the influx of new stage artists, the profile of the company slowly changed too, and with that came the change of name, first to the San Pedro Playhouse, to remove the distinction between the resident company and the building itself, and later to Playhouse San Antonio, to emphasize the theater's role in the community.
Well, now comes another name change. The new leaders of the resident organization have just announced that from now on Playhouse San Antonio will be known as The Public Theater of Sam Amtonio.
"We want San Antonio to know we're their theater, "said current CEO/Artistic Director, George Green, in a release. "If you go back to the inception of the organization, it was built for the citizens of San Antonio. Over 100-plus years, this organization has evolved to serve the needs of the time and of the city."
Indeed. Under Green's leadership, the company is moving in the direction of becoming a fully professional, Actor's Equity theater, meaning an entity that follows the standards of the national union of actors and stage managers in terms of pay and work conditions. It's not an easy transition and it will take time but the technical quality of productions has already been much improved.
The rest of the 2017-18 season offers a range of interesting plays and musicals in the theater's two spaces, the Russell Hill Rogers stage upstairs and the smaller downstairs Cellar Theater. Here's what's coming up:
A Bright New Rose by Samuel Hunter, a play that explores "the thorny issues of faith, forgiveness and second chances" in the corporate break room of a big box store (Cellar, through Jan. 21)
Little Women, a musical based on Louisa May Alcott's popular novel, with music by Jason Howland. (Russell Hill Rogers Theater, Jan. 26-Feb. 18)
Wit, by Margaret Edson, winner of the 1999 Pulitzer Prize for Drama. I can personally recommend this play. It's an intelligent and moving examination of a woman's life and attitude after she receives the diagnosis of terminal cancer. (Cellar, Feb.23-March11)
If/Then, another mainstage musical, written by Brian Yorkey, with music by Tom Kitt. It looks at two different paths a woman's life could take. Though the script received mixed reviews, the songs earned a great deal of praise. (Russell Hill Rogers, March 16-April 8),
HAND TO GOD. The brochure calls it "ridiculously raunchy, irreverent and funny" and promises that the show "is bound to leave you sore from laughing." (Cellar, April 13-May 6)
The Bridges of Madison County. This one hardly needs an introduction as it is an adaptation of the popular best-selling novel by Robert James Waller, which was also turned into a movie starring Meryl Streep. (Russell Hill Rogers Theater, May 11-June 3)
Assassins, the controversial musical by Stephen Sondheim who wrote the music and the lyrics, focuses on exactly what the title says, famous assassins who present their side of the historical stories they participated in. (Cellar, June 8-July 1
Mamma Mia will lighten the mood with music and comedy fit for the summer months The show is a bubbly, funny tale about a young woman, her mother and three potential fathers whom the daughter invites to her wedding on a Greek island – all wrapped up in ABBA songs. (Russell Hill Rogers, July 6-Aug.5)
—————————————–