When Ballet San Antonio's artistic director Willy Shives asked the company's trustees what they thought the audiences wanted to see, the answer was clear: classical, story-based ballets.
So, he obliged. This weekend, BSA will premiere its new production of "The Sleeping Beauty," surely one of the most elaborate story ballets ever created, which premiered in 1890 at the Maryinsky Theater in St. Petersburg, Russia. With music by the incomparable ballet composer Pyotr Ilyich Tchaikovsky and choreography by the legendary imperial ballet master Marius Petipa, "The Sleeping Beauty" became part of the repertoire of all major ballet ensembles in the world, including the London-based Royal Ballet, which brought the spectacular show to San Antonio ten years ago. It played to a packed Lila Cockrell Theater.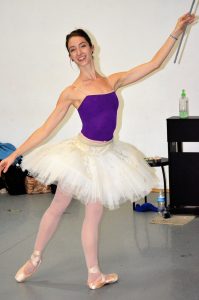 Now San Antonians have another chance to see the iconic ballet in a fully-staged production produced and performed by our own professional ballet company.
The familiar fairy-tale is essentially a story of good versus evil. At the christening celebration for Princess Aurora, the angry fairy Carabosse curses the baby and predicts that on her sixteenth birthday, Aurora will prick her finger on a spindle and die. The good Lilac Fairy steps forwards to promise the distraught King and Queen that their daughter will not die. Instead she will fall asleep for 100 years. And you know the rest –  handsome prince Désiré a finds the Sleeping Beauty in the enchanted castle in the woods, wakes her with a kiss and – what else? – they get married and live happily for ever after.
Visually and dramatically, the action moves through several opulent scenes featuring a lot of dancers portraying courtiers, fairies, cavaliers, villagers, hunters, court officials and, fairy-tale characters, to finally conclude with a grand-scale wedding  party.
However, this sweet tale is a very demanding ballet for the dancers, especially the ballerina dancing the role of Aurora. Soloist Kate Maxted who will be Aurora Friday and Saturday night, likes the dramatic arc that allows her character to change from the innocent, graceful girl to a more mature woman in love "who is in control of the room," but Aurora spends a lot of time on stage, dancing in several pas de deux, variation after variation, and the role can be exhausting. The sheer amount of dancing is a challenge and some parts are more challenging than others. "In the 'Rose Adagio,' for example, it's hard to hide mistakes," says Maxted, "you have to be perfect."
Her partner, Cuban-born Ihosvany Rodriguez, who joined the company this season, agrees. "Prince Désiré is a very hard role but at the same time I love it," he notes. "Yet, I am nervous about it; this ballet is very different from 'The Nutcracker" or 'Don Quixote' (in which he performed last fall). "In this one you have to have precise technique; there's no free-styling. It's a huge step for me, to be honest."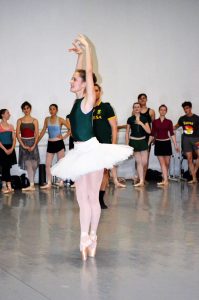 As artistic director, Shives strives to give many dancers the chance to shine in principal roles, not just the ones who have the title of principal dancer.  Other duos who will portray Aurora and Desire during the four-performance run are Sally Turkel and Mayim Stiller, and Sophie Bertollini and Stiller. Turkel, a principal dancer, also appears as the Lilac fairy when she's not dancing the main role.
The show is pretty much nonstop dancing, says Shives. While creating choreography, he invites the dancers to join in the process. "Dancers are creative artists who are helping me choreograph the ballet. They have a voice; I listen to them," says the artistic director.
In addition to the 32 company members, the cast will also include 20 children recruited from area ballet schools, including 12 boys who will surround Carabosse as her minions. It's fun to have kids in the show;  they bring in a lot of laughter, says the artistic director.
Shives has a message for all of you reading this: "The production is so beautiful… It's Valentine's season, come to see it and bring your sweetheart. It's a ballet for everyone, lovers, children, families." And let me add, for all who enjoy great music and a theatrical spectacle.
(Feb. 17-19; for tickets go to www.tobincenter.org or call 210-223-8624)
——————————————————————————
Rehearsal photos: Ihosvany Rodriguez and Kate Maxted; Kate Maxted; Sally Turkel. Photos by Jasmina Wellinghoff