Summer Fun for Kids and Adults

Two ongoing shows promise to be delightful summer fun. The Woodlawn Theater opened Shrek The Musical last weekend and the Magik Theater is continuing its run of Junie B. Jones, also a musical. Both shows are based on books and in the case of Junie B, a series of books by Barbara Park. Shrek The Musical was inspired by William Steig's picture book by the same name, as well as the Shrek animated films.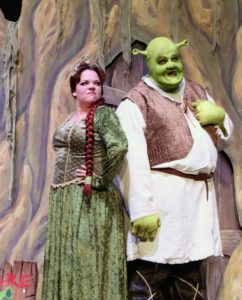 Those who saw the movies will probably enjoy the live production even more. With songs by the talented Jeanine Tesori and book and lyrics by David Lindsay Abaire, the musical received eight Tony nominations and 12 Drama Desk nominations when it opened on Broadway. The story is a fairy tale to end all fairy tales. It revolves around the title character who is a big, unattractive ogre, living a lonely life in a swamp, until a whole bunch of fairy tale characters invade his domain. That includes Pinocchio, the Big Bad Wolf, the Three Little Pigs, Peter Pan, Snow White, etc. Annoyed by the invasion, Shrek sets out to see Lord Farquaad, the evil ruler who forced the fairy tale denizens into exile. There are challenges along the way but the journey changes his life in the best way. The musical has been praised for its humor, music and spectacular costumes.
The Woodlawn production is directed by Mark McCarver and choreographed by Alonzo Corona, with music direction by Darrin Newhardt. Joshua Goldberg portrays the title character; Morgan Clyde is his love, Princess Fiona, and Alejandro Pesina plays Shrek's unlikely companion Donkey. (www.woodlawntheatre.org)
Over at the Magik, Junie B. Jones is facing a very different journey. She is a new first-grader who finds herself surrounded by new people and circumstances. Then she discovers in class that her vision has suddenly become blurry and she may need glasses. There's a lot of song and dance here as well, in addition to a few lessons for the youngsters. Gazelle Garcia plays the young heroine. The show is choreographed and directed by Heather Currie with music direction by the obviously busy Darrin Newhardt. (For tickets and times go to www.magiktheatre.org