Today OPERA San Antonio releases details for its 2021/22 season. After successfully navigating the pandemic, OSA became the first opera company in Texas to return to live, indoor performances in May with a successful production of Lucia di Lammermoor. The 2021/22 season expands on that success, beginning with Mozart's Don Giovanni followed by the company's first ever Gala, From Seville to San Antonio. The season concludes with Verdi's Rigoletto. Additional season highlights include concerts and continued virtual, educational, and outreach programming.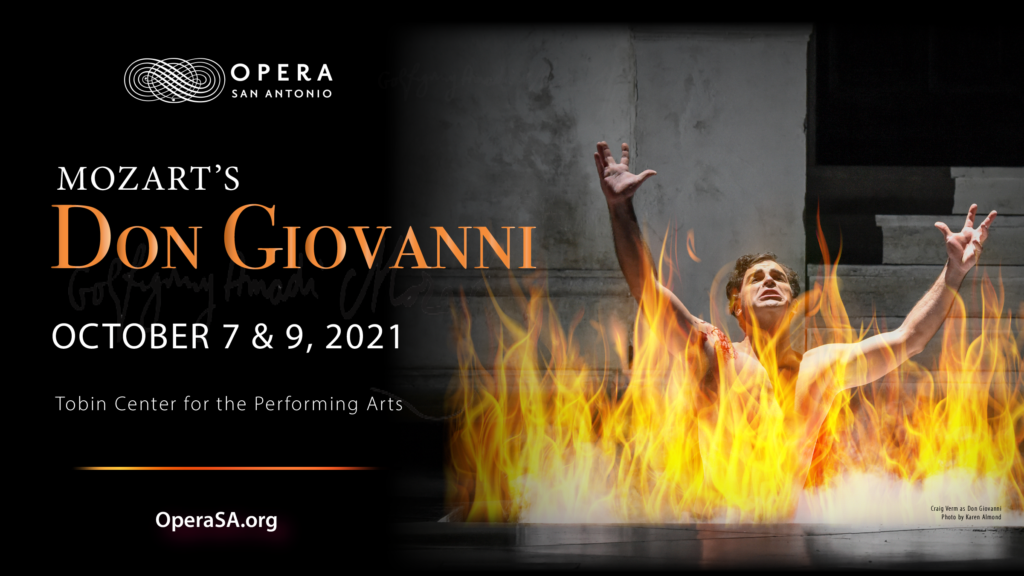 Don Giovanni
Wolfgang Amadeus Mozart
October 7 and 9, 2021
Tobin Center for the Performing Arts
Don Giovanni balances comedy with tragedy as the Age of Enlightenment's most notorious lover meets his demise. Giovanni tries to evade punishment for his crimes and foolishly mocks death itself, resulting in his final comeuppance – eternity in hell. Filled with breathtaking arias and quicksilver ensembles, Don Giovanni is sure to be a spectacular opening to a significant season.
"Mozart and Da Ponte's collaboration gifted us three pillars of the operatic repertoire. Anytime we produce one of these operas, like Don Giovanni, it is a thrill not only for the audience, but for the performers as well," says OSA Music Director Francesco Milioto. "Mozart's music perfectly creates the characters and guides us through each scenario. To me, his true genius is on full display in the ensembles and finales of his operas. Mozart's ability to layer many singers into complex ensembles that serve the dramatic pacing is unprecedented and truly magical."
Maestro Robert Tweten returns to OSA to conduct the San Antonio Symphony after his success with Faust in the 2018/19 season. OSA Artistic Advisor Garnett Bruce directs this action packed 90-minute production featuring projections co-designed by S. Katy Tucker, who debuted her work at OSA with Lucia di Lammermoor, and Blake Manns. The cast features eight extraordinary singers who bring local and national talent to the stage lead by Craig Verm as the title character. Two Texas based artists join the cast: former Houston Grand Opera Studio Artist Michael Sumuel as Leporello and Mark Diamond, Assistant Professor of Voice at Baylor University, as Masetto. A fierce trio of women propel the story, holding Giovanni accountable for his crimes: Raquel González as Donna Anna, Karin Wolverton as Donna Elvira, and current OSA Apprentice Artist Kresley Figueroa as Zerlina. Rounding out the cast are Joshua Dennis as Don Ottavio and Kevin Thompson as the Commendatore.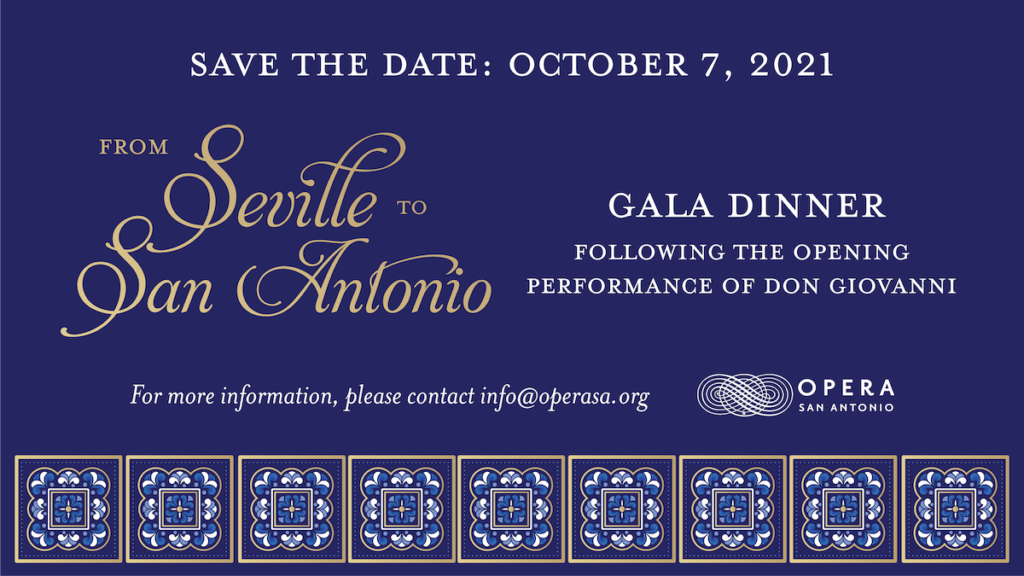 From Seville to San Antonio, OSA's fall Gala, will be held immediately following the opening night performance of Don Giovanni. All Gala attendees receive premier seating for the performance. At the conclusion of the opera, the Gala dinner will begin in the Alvarez Theater of the Tobin Center. During dinner, the singers and artists from Don Giovanni will be seated at tables with Gala patrons, and will provide musical entertainment. The Gala provides an opportunity to meet the incredible cast and to hear them sing up close. It will be an unforgettable experience for all who join in.
For tickets and additional show details please visit our website: www.operasa.org/don-giovanni 
For information on the Gala please contact info@operasa.org.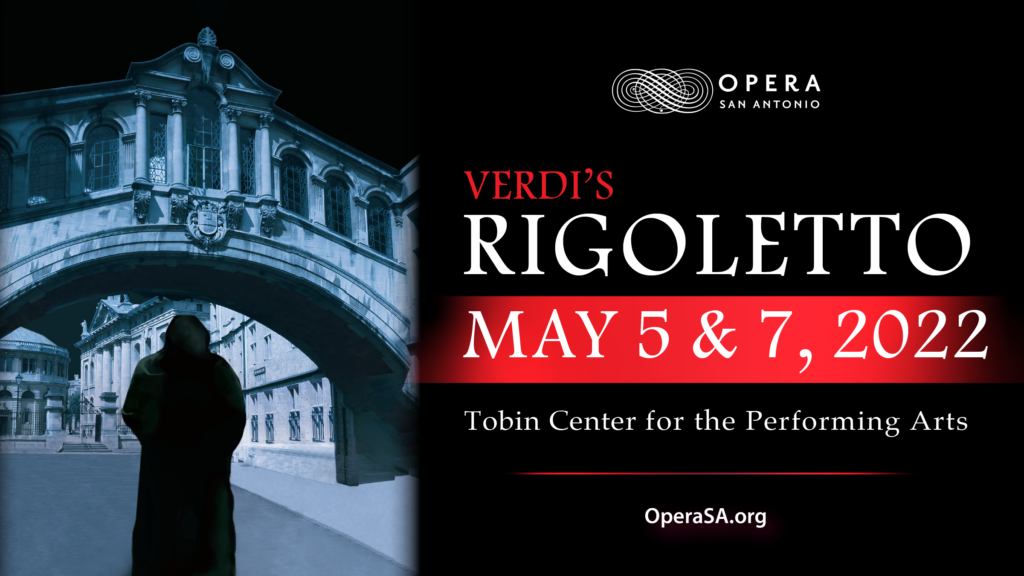 Rigoletto
Giuseppe Verdi
May 5 and 7, 2022
Tobin Center for the Performing Arts
This production of Rigoletto marks OSA's return to full length productions, continuing our mission to produce operatic masterpieces featuring incredible casts from across the globe. Rigoletto has often been called the greatest of all operas. Filled with famous arias, it is a powerful drama about a flawed father's love. Rigoletto, the court jester, has willingly gone along with the Duke of Mantua's abuses of power – until his own daughter falls victim to the Duke's charms. The court has no sympathy, and Rigoletto feels powerless, unable to protect his daughter's virtue. However, his bitter quest for revenge has tragic consequences: Gilda, who truly loves her seducer, is willing to die in his place.
This production was originally directed by Tomer Zvulun for the Atlanta Opera with sets by John Conklin, costumes by Victoria Tzykun, and lighting by Robert Wierzel. OSA General & Artistic Director E. Loren Meeker stages the production in San Antonio and OSA Music Director Francesco Milioto returns to the podium to conduct the San Antonio Symphony.
"We are proud to bring this gorgeous production to San Antonio. Tomer Zvulun and I have been colleagues for many years and it's exciting to share work between our companies," says E. Loren Meeker. "It's a pleasure to use this production to bring together extraordinary local and national talent for a triumphant return to large scale productions after the tumultuous year of the pandemic."
The show features James Westman as Rigoletto, Santiago Ballerini as the Duke, and Andriana Chuchman as Gilda. Supporting cast includes Andrea Silvestrelli as Sparafucile, Sarah Saturnino as Maddalena, Reginald Smith, Jr. as Monterone, Bill McMurray as Marullo, and Brian Yeakley as Borsa. Local artists comprise additional roles with Sergio Gaona as Count Ceprano, Maeli Gonzalez as Giovanna, Carrie Warren as Countess Ceprano, Thomas Soto as the Usher, and Julie Silva as the Page. OSA is also proud to welcome the OSA chorus, led by Chorus Master Dottie Randall, back to the stage.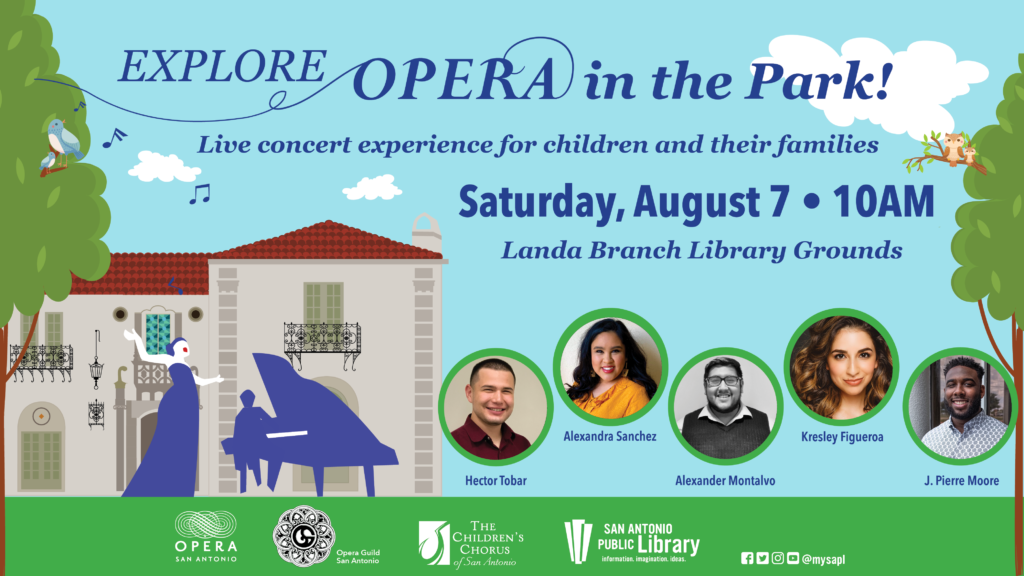 Explore Opera in the Park!
A concert with OSA and CCSA
August 7, 2021
Landa Library: 233 Bushnell Avenue, San Antonio, TX 78212
Explore Opera in the Park! is designed as a fun outdoor concert experience tailored for children and their families on the beautiful grounds of the Landa Branch Library. OSA continues its long-standing summer collaboration with the SAPL, returning to live performance after successfully presenting award winning virtual programming in 2020. The concert features the Children's Chorus of San Antonio and OPERA San Antonio's 2021 Apprentice Artists who are generously sponsored by the Opera Guild of San Antonio.
The hour-long concert includes fun surrounding activities sponsored by the Young Professionals Opera Guild. Guests are invited to bring blankets and pack a picnic brunch to enjoy in the park. A food truck will be available on site to provide refreshments.
To learn more and register click www.eventbrite.com/e/explore-opera-in-the-park-tickets. 
Additional Programs
The 2021/22 season also includes a broadcast of Verdi's La Traviata which airs September 21, 2021 on Texas Public Radio (KPAC). The performance, captured live in 2018, features Amanda Woodbury, David Portillo, and Weston Hurt with Francesco Milioto conducting the San Antonio Symphony.
Several of OSA's successful digital programs continue throughout the year including Beyond the Production and its Spanish counterpart, Charlas Musicales. Beyond the Production is an online interview series taking artists off the stage and into the community to share their experiences in the operatic arts. Charlas Musicales introduces Hispanic and Latin artists to new audiences. Past interviews are cataloged on the "Opera Now" tab on OSA's website and via playlists on OSA's YouTube Channel.
In July, the SAPL re-releases OSA's 2020 award winning Explore Opera for Kids! video series which teaches elementary age children the basics of opera. You can watch the videos through the SAPL website on July 2, 9, 16, 23, and 30 at noon by visiting https://guides.mysapl.org/SRP/opera. Videos will remain up on the SAPL website for one month from release date.
OSA's monthly newsletter, Curtains Up, and social media accounts will provide updates on all of our virtual and live programs. Additional details on the 20/21 season are available on the OPERA San Antonio website: www.operasa.org
About OPERA San Antonio
OPERA San Antonio's mission is to produce opera of uncompromising artistic quality and to enrich our community through educational outreach and social engagement. The company is committed to preserving and sharing opera as an art form that is relevant, inspirational, and accessible to residents and visitors of all ages and backgrounds. The civic premise of OPERA San Antonio is that the community needs, and the citizens deserve, access to the major performing arts.