Former Ballet San Antonio principal dancers Sarah Pautz and Jayson Pescasio have returned to the Alamo City, and are presently affiliated with Ballet Conservatory of South Texas (BCSTX). She is the associate artistic director of the ballet school and pre-professional company, and he is the resident choreographer. In addition, both teach and coach ballet students.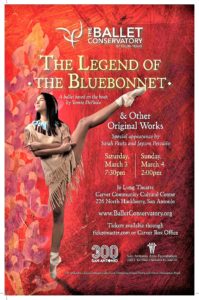 This weekend, San Antonians will get a chance to see the results of their new efforts. To honor the city's Tricentennial, BCSTX will premiere a brand-new work, "The Legend of the Bluebonnet" which Pescasio choreographed to the original music of local composer Brandon Guerra. And the couple – who are married to each other – will also appear on stage in an excerpt from "Sleeping Beauty."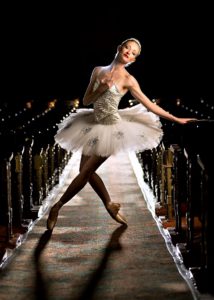 Based on the eponymous book by Tomie DePaolo, "Bluebonnet" retells an old Comanche folktale about how bluebonnets came to be. Following a devastating drought and famine that killed many in the Comanche Indian community, an orphaned little girl decides to sacrifice the only thing she has left – her doll – to appease the mighty spirits who control human destiny. To reward her sacrifice, the spirits make the earth bloom with beautiful bluebonnets all over Texas. Original sets and costumes will enhance the story's impact.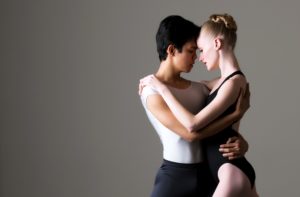 The show will also feature the work of other guest choreographers such as Durante Verzola, Felicia McBride (a native San Antonian) and Jacqueline Courchene. About 40 BCSTX students, ranging in age from 8 to 18 will be performing.
Pautz said she enjoys her new career as teacher and coach. "It's very rewarding though in a different way than performing," she noted. "Performing offers immediate rewards. I love performing. Teaching has a longer lasting impact."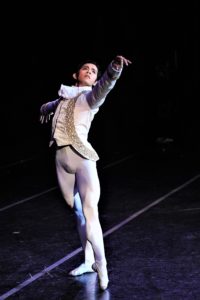 But neither she nor Pescasio have given up dancing. They guest- star with a number of ballet companies and will appear later in the spring in "Romeo and Juliette" with the Grigorian Ballet Theater, founded by prominent Russian-trained dancer/choreographer Rafael Grigorian.
"I appreciate it more," added Pautz, referring to performance, "especially dancing with Jayson. To dance with him is the most romantic thing I can imagine."
Let's hope to see more of them both on San Antonio stages.
"The Legend of the Bluebonnet," 7:30 p.m. Match 3 and 2 p.m. March 4, Carver Community Cultural Center, 226 N. Hackberry. For tickets info
———————————————————————————————–
Photos of dancers by Alexander Devora (from top) Sarah Pautz, Pautz with Jayson Pescasio, and Jayson Pescasio