Creative women seem to be changing Broadway these days, and an example of the new female power is the musical "Waitress" which was created by women to showcase women and the themes of self-discovery and the self-fulfillment.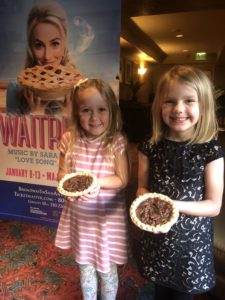 Featuring original music and lyrics by 6-time Grammy nominee Sara Bareilles and a book by respected screenwriter Jessie Nelson, the musical, based on the eponymous film by Adrienne Shelley, tells the story of Jenna, a waitress in a small-town diner, who also happens to be the maker of delicious pies. A mother and an unhappy wife, Jenna sees a baking contest as a chance to win some money and start a new life. Along the way, she is encouraged by her fellow waitresses and friends.
Highly praised by a number of reviewers, the national tour of "Waitress" is stopping at the Majestic Theater this week for eight performances Jan. 8-13. It features former "Wicked" star, Christine Dwyer, in the title role, and actor, singer and musician, Steven Good, as the gynecologist with whom Jenna has a little extramarital affair. The show is also directed by a woman, the Tony Award winner, Diane Paulus. Maybe it was her idea to have some real baking going on on stage, with sweet pie smells tickling your nostrils and teasing your appetite. (I wonder if recipes will be printed in the program. Jenna is supposed to be an inventive pie maker.)
Another sweet touch is the casting of two local little girls to play Jenna's daughter Lulu during the San Antonio run. Some 60 hopefuls auditioned for the small role which will be shared by 5-year-old Annie Crain of Cuero, and 4-year-old Georgia Hallmark from Helotes.
Entertainment Weekly described "Waitress" as "a little slice of heaven." Now, that's a recommendation!
Tickets are available online at www.ticketmaster.com, by calling Ticketmaster at 800-982-2787, or at the Majestic box office where you must purchase them in person (224 E. Houston St.) For information call 210-226-3333.