No one has impacted musical theater in recent times as much as Andrew Lloyd Webber, the composer of "The Phantom of the Opera," "Evita," "Jesus Christ Superstar" and about ten other stage musicals. His songs soar and rock, drawing eager fans and packing theaters wherever they are performed.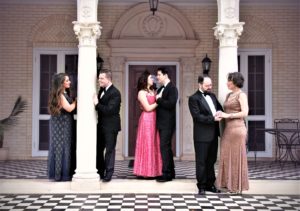 So, here's good news for all Lloyd Webber fans in San Antonio: To mark the composer's 70th birthday, the Woodlawn Theater is presenting "The Music of Andrew Lloyd Webber," a musical revue of his tunes, which opens Friday, Feb. 23 and runs through March 18.
Directed and choreographed by Christopher Rodriguez, with musical direction by Andrew Hendley, the revue features 20 songs from the extensive Andrew Lloyd Webber catalog, including well-known numbers from "Cats," "Evita," "Aspects of Love," "Phantom," "Sunset Boulevard," "Joseph and the Amazing Technicolor Dreamcoat," "Starlight Express," and a few others. But the show also spotlights relatively obscure songs that may surprise audiences.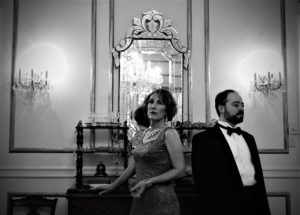 According to Rodriguez, the show unfolds through a series of vignettes that center on love and relationships as enacted by three couples: Amanda Golden and John Berring; Nora Martinez and Joshua Buce; and Anna Gangai and Robert Nauman. "It's a journey through aspects of love," said Rodrigues who is the Woodlawn's executive/artistic director. The six leads will be supported by an ensemble of eight others, plus a small orchestra.
"I am really excited to be in this show," said Anna Gangai, one of San Antonio's best musical performers. "I have been in several Lloyd Webber musicals but here I get a chance to sing two numbers from 'Sunset Boulevard' which will probably never get staged (as a full production) in San Antonio. I really love it."
She will also sing "Buenos Aires" from "Evita" (as a duet) and one of those less known numbers, "Light at the End of the Tunnel" from "Starlight Express," which has now become one her favorite Lloyd Webber songs.
Gangai and the entire cast will be singing – and dancing, too – on an imposing set featuring tall columns, a grand staircase, and a "giant chandelier," created by technical director Benjamin Grabill. (But don't worry, this chandelier is not going to crash.) "It's a classy look that pairs well with the music," noted the director. "And it's the perfect season opener for us."
Theatergoers will be invited to donate art supplies to benefit Hearts Need Art, a nonprofit that provides healing art programs for cancer patients. For a list of desired items visit woodlawntheatre.org.
Tickets cost $18-$30;  for ticket information call the box office, 210-267-8388.
———————————————————————————————
Photos (from top) Norma Martinez, Joshua Buce, Amanda Golden, John Berring, Robert Nauman and Anna Gangai; Anna Gangai and Robert Nauman in scenes from :"The Music of Andrew Lloyd Webber"