You don't expect to see cars displayed in an art museum but that is indeed what you'll find upon entering the Tobin Exhibition Gallery at the McNay Art Museum right now. Ten resplendent, colorful automobiles from a bygone era, are positioned as sculptures along the perimeter of the gallery, each flanked by two paintings on the nearby walls. It's quite a sight! No wonder visitors pull out their cell phones and cameras to snap picture after picture.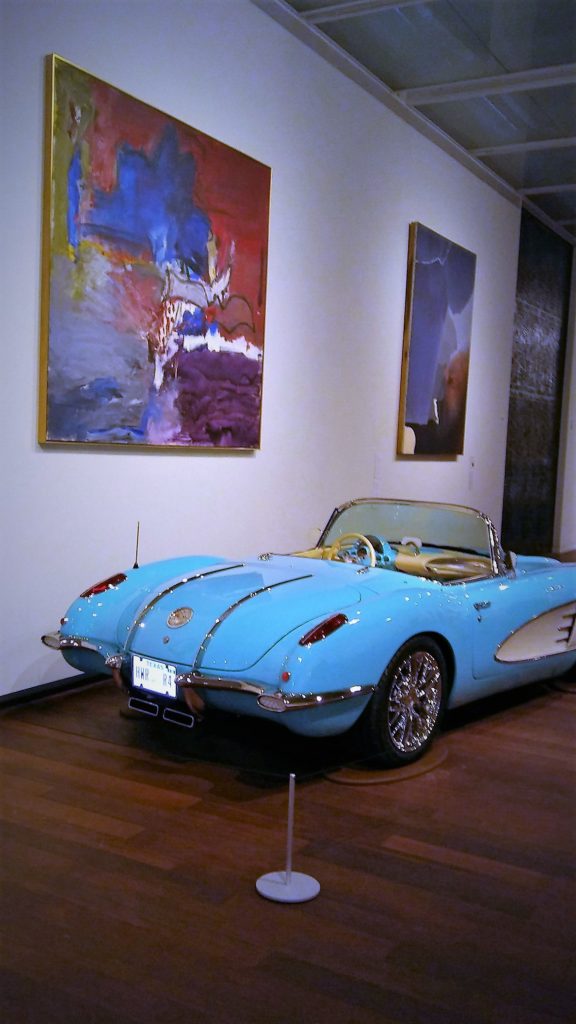 This unique exhibit, American Dreams: Classic Cars and Postwar Paintings, which opened last week, was the brainchild of the museum's director Richard Aste but was turned into reality through the work of a team consisting of René Barilleaux, head of curatorial affairs, Kate Carey, head of education and assistant curator Jackie Edwards.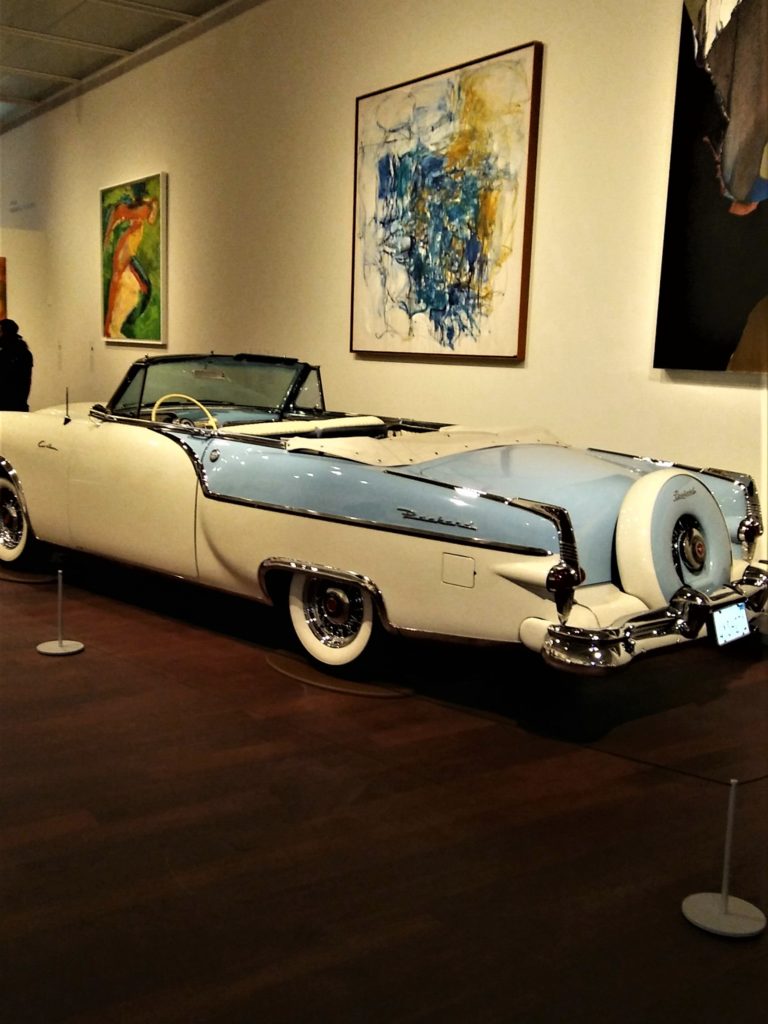 "Initially, Rich was looking at cars for an exhibit, said Barilleaux, "but, as a group, we decided that we wanted to bring art into the conversation. We (at the McNay) have strength in postwar art and it made sense to put the two together."
Both the cars and the artworks date back to the years between the end of WWII and the mid-1970s, the so-called Golden Age for American innovation, optimism and booming industrial production. The long, shiny vehicles with pronounced tailfins that you may remember from old movies, have been carefully paired with paintings to achieve a resonance of color, shape, line and volume, noted Barilleaux. This was the time when artists experimented with new approaches to art such as abstract expressionism, pop art and op art, and when New York supplanted Paris as the art capital of the world.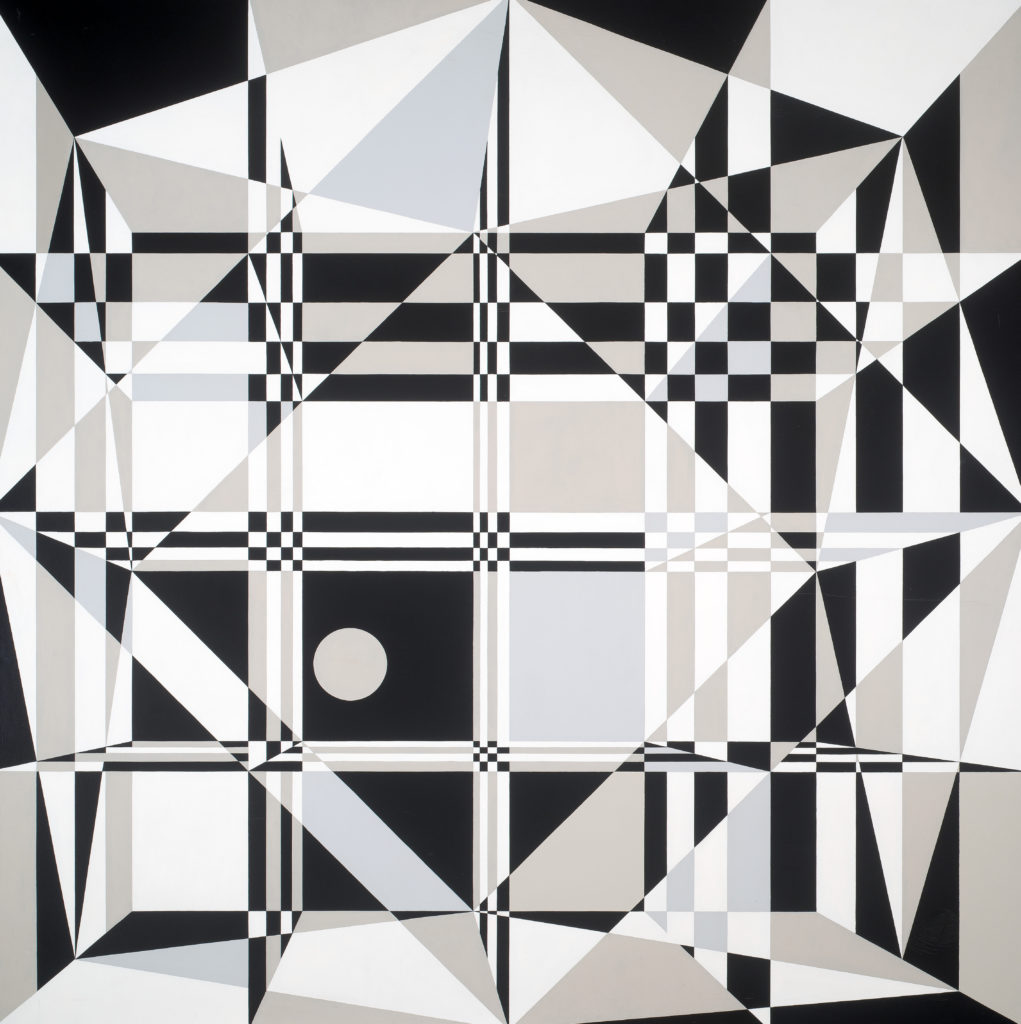 Artists featured in American Dreams include a number of women, who were not sufficiently recognized back then. Among them are Joan Mitchell, Judith Godwin, Grace Hartigan, Edna Andrade and Dorothy Hood. Godwin is still alive and working, and has just opened an exhibit of her work in New York, said the chief curator. "She's become a good friend," he added. "In 2008 we had an exhibit of her work here and that's when we bought the painting that is in the current show." Male artists in the show include: Frank Stella, Larry Rivers, Friedel Dzubas, Sandu Darie, Robert Indiana, Roy Lichtenstein, James Rosenquist and others. Asked which paintings he considers especially significant, Barilleaux cited Mitchell's abstract expressionism work, Lichtenstein's pop art and Larry Poons' optical paintings.being the
Most of the artworks are culled from the McNay's own collection. The cars have been borrowed from three private collectors, with half of them coming from the Richard L. Burdick Collection in San Marcos. According to Barilleaux, there are quite a few aficionados and collectors of old cars in the area, who are expected to visit the exhibit. "We are introducing art to car lovers and classic cars to art lovers," he said. In fact, Barilleaux, hmself, admits that American Dreams made him appreciate more the art of design. In fact, there may be more design-based exhibits in the near future, including one centering on fashion design next year.
In addition to the ten cars in the gallery, visitors can also admire a yellow 1953 New York taxi in the lobby, which will be raffled off on the last day, May 19. Tickets are selling briskly. Another related event is a "car talk" by Patrice Bank, the author of Auto Clinic: Glove Box Guide on April 4.
"We are always looking at ways to redefine our programs here and embrace visual art in a broader sense, to make art friendly to everyone," said Barilleaux.
Tickets are $20; $10 during free general admission times, 4-9 p.m. Thursdays. For info call 210-824-5368         
Photos (from top) Chevrolet Corvette 1959 with art by Grace Hartigan (photo by Jasmina Wellinghoff); Packard Caribbean 1954 with art by Joan Mitchell (photo be Jasmina Wellinghoff);  Space Frame C by Edna Andrade