In the English-speaking world, Jane Austen's "Pride and Prejudice" continues to top lists of favorite books in reader surveys while film, stage, TV, and literary adaptations and sequels by multiple writers  keep on coming.
So, it's not surprising that playwrights Lauren Gunderson and Margot Melcon's 2016 play "Miss Bennet: Christmas at Pemberley" has quickly become one of the most produced new plays in the U.S.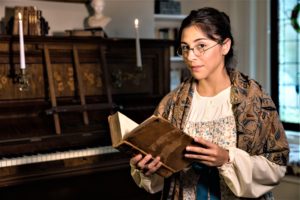 "It's a fun, exciting and joyful play," said Kelly Roush who is directing the San Antonio premiere of the work for the Classic Theater of San Antonio. "It has become so popular because so many people love the 'Pride and Prejudice' story of women finding their voice, being smart and witty, and breaking conventions. (The play) is an opportunity to spend some time with the Bennet sisters again."
Described as a romantic comedy of manners that's "both period and contemporary," the action takes place two years after the end of the novel as the Bennet family and other related characters gather at Mr. and Mrs. Darcy's fabulous estate for a Christmas celebration. Elizabeth and Darcy are a happy couple, Jane and Bingley are expecting a child, and younger sister Lydia is coping with her husband's frequent absences. But the play's focus is on middle sister Mary, the nerdy one that did not get much attention in the novel. For those who can't even remember her, she was the girl who loved books and played the piano – and did not get married.
But Mary has hit her stride. At the Christmas party she meets the socially awkward Lord Arthur de Bourgh, a cousin of the host and a scholar with whom she shares an interest in biology and philosophy. The two are somewhat similar to the characters on the hit TV show "Big Bang Theory," commented Kelly, herself a fan of "Pride and Prejudice."
According to reviewers, the dialogue sizzles with literate humor. One critic called the play "an unstuffy, highly entertaining and warm-spirited work."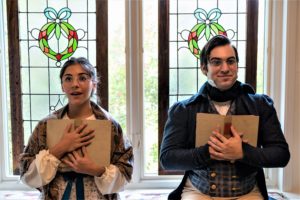 To help the cast master both the manners and the way of speaking of early 19th century England, the Classic asked New York-based coach Joe Goscinski to provide vocal coaching, while Elizabeth Ramirez, who serves as the show's dramaturg, helped with appropriate body language and behavioral etiquette of the upper classes.
And needless to say, lots of actors showed up to audition for the roles. Who wouldn't want to be a Bennet sister?! quipped one auditioning actress, probably expressing a shared sentiment.
The lucky ones who got the parts include Alyx Gonzales as Mary, Hunter Wulff as Arthur, Alison Chambers as Elizabeth and Nick Lawson who portrays Darcy.
The Classic hopes that "Miss Bennet" will become a new holiday favorite for families. "It's humorous, full of life; it's really refreshing," said the director. "I am loving working on it."
And I can't wait to see it!
Tickets $18 – $33, call box office at 210-589-8450; www.classictheatre.org
———————————————————————————————————-
Photos (from top): Alyx Gonzales as Mary Bennet; Emily Huber, Alyx Gonzales, Alison Chambers and
Carolyn Dellinger as the Bennet sisters; Alyx Gonzales and Hunter Wulff as Mary and Arthur.