ARTS San Antonio has two special treats for San Antonians this holiday season – a big Mexican folkloric extravaganza called "Fiesta Navidad," and a beautiful "Nutcracker" produced by the Mejia Ballet International from the Dallas-Fort Worth area.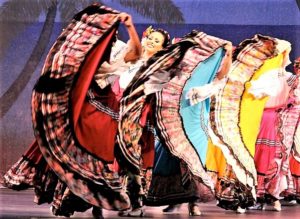 The first up on Dec. 15 is "Navidad," a music and dance spectacle featuring Ballet Folklorico Mexicano de Carlos Moreno from Oakland, CA, that will perform with the Mariachi Divas, a Grammy winning all-female mariachi ensemble from Los Angeles. ARTS San Antonio president, John Toohey, was so impressed by the folkloric group when they appeared in San Antonio with the Chicano/Latino rock band Los Lobos a few years ago that he decided right away to bring them back as soon as possible. "They were a very professional, exceptional company," he said. "I spoke with both father and son (who lead the company) and they said, 'We also have a Christmas program that you should see.' I am very pleased that we were able to bring them here this year."
Founded by Carlos Moreno Samaniego in 1967, the company has performed in both the U.S. and Mexico, bringing to the stage both traditional dances in their original form and numbers choreographed with a more contemporary flair. As a New World land, Mexico has experienced the mingling and mixing of cultures and traditions and those are incorporated in the country's folklore. Thus, the show features indigenous rhythms and dances, as well as pieces with Spanish, African, and Central European characteristics. Today, Moreno-Samaniego is the general manager of the company while his son, Carlos Garcia Moreno, serves as artistic director. Trained as a dancer since the age of 3, the younger Moreno spent three years as a dancer with the famed Ballet Folklorico de Mexico of Amalia Hernandez, with whom he toured North and Central America, Europe and Asian countries. Currently, the Moreno ensemble has a repertoire of 120 pieces.
"Fiesta Navidad" is ARTS San Antonio's way of welcoming the upcoming 300th anniversary of our city,
A special performance for more than 2,000 school children is scheduled for the morning of Dec. 15.
And then comes "The Nutcracker." Familiar as it is, the iconic ballet never fails to attract eager audiences, ready to enjoy Tchaikovsky's beautiful music, the heartwarming story and the bravura of great dancers. Choreographed by Paul Mejia, who has had a lifelong connection with the ballet since he danced in it as a boy, this version is faithful to the classic story but the stage direction and choreography Kick up the presentation a few notches above most other productions. After seeing it a couple of years ago, I said in my review that some scenes had "a certain painterly quality" about them not seen elsewhere and transitions were smooth and fluid.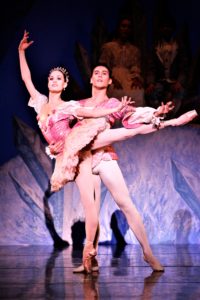 The production has new stars this year –  Natalia Magnicaballi and Michael Cook,  who have been stage partners for years as members of the Suzanne Farrell Ballet. Though that company is closing its doors for good this month, Cook and Magnicaballi will probably have no problem finding another artistic home as both have impressive resumes. Her repertoire includes the lead roles in 35 Balanchine works restaged by the Farrell company, and she has also starred in all the big classical ballets such as "Don Quixote," "Coppelia," Giselle," and many others. Both she and Cook have also danced as principal dancers with Ballet Arizona. In Mejia's production, the pair will appear in the roles of the Sugar Plum Fairy and her Cavalier. Since no "Nutcracker" can be successful without dozens of kids scurrying around, the San Antonio Metropolitan Ballet has auditioned 80 children from local ballet schools to appear on stage as party guests, mice, toy soldiers, angels, etc.
Five performances will take place at the Lila Cockrell Theater Dec. 21-23, conveniently just before Christmas, so you can take your guests with you. Toohey said that new parking amenities will be available. Check the ARTS San Antonio website www.artssa.org for parking information. Tickets for all shows can be purchased through the website and through Ticketmaster, as well as by calling 210-226-2891 or in person two hours before each performance.
Have a great holiday season!
——————————————————-
Photos:(from the top) "Fiesta Navidad"; The Russian dance from the "Nutcracker"; Natalia Magnicaballi and Michael Cook