SOUTH TEXAS LEGENDS COME TO LIFE IN PLAY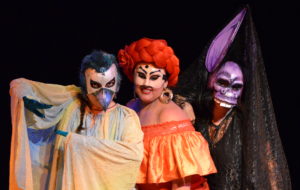 Have you ever heard of the Donkey Lady who haunts a forlorn bridge on the southern edge of Bexar County? Or of Big Bird? No, not the Sesame Street character but a huge, strange bird that provoked fear and concern in the Rio Grande Valley back in 1970s?
In playwright Marisela Barrera's play Ruby Reds, Big Birds y Burras, which is closing the Nuevo Teatro series this weekend at the Guadalupe Cultural Arts Center, these folk legends become flesh-and-blood characters who deal with earthly, human issues. In addition to Big Bird and the Donkey Lady- called La Burra in the play – there is also La Lechuza, a half-woman half-owl creature that, according to legend, occasionally startles folks in the U.S.-Mexico borderlands. According to the press release, "Big Bird haunts dead-beat fathers; Burra carries the burdens of her community through the visions she see; and Lechuza wanders between borders, never quite settling on one or the other."
Cast as La Burra, Barrera will be joined onstage by Janie Sauceda, Salvador Valadez, Holly Nanez and Valentina Barrera. The production promises to be visually colorful and exciting, with vivid costumes by John McBurney, sets by Michael Menchaca, masks by Richard Solis, and lighting design by Chuck Drew. Live music by George Garza, Jr. is also part of the action.
The play contains some "strong language" and parental guidance is suggested.
For times and tickets go to www.guadalupeculturalarts.org or call 210-271-3151.