Ballet dancer Allison Walsh has been involved with "An American in Paris" since the very beginning. She auditioned for it five years ago and was part of the original workshop version of the musical that would go on to win four Tony Awards and a whole list of other prizes after it premiered on Broadway in 2015.
But before Broadway, the show opened first in Paris at the Theatre du Chatelet and Walsh was part of that, too. French audiences "adored it," she said, "they completely embraced it. It's visually stunning, it looks like Paris," she added.
After serving as an alternate for the lead female character during the Broadway run, the ballerina was finally offered the star position in the touring production which makes a stop at the Majestic Theater for eight performances June 12-17. "I can't escape this show!" she quipped.
.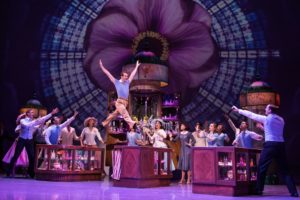 Directed and choreographed by Christopher Wheeldon, one of the best choreographers in the world, the musical is based on the 1951 movie starring Gene Kelly and Leslie Caron, but it's hardly a copy of it. The story is placed more firmly in the context of a country just emerging from a bloody war, dancing is a huge part of storytelling and additional Gershwin songs were added to the score. Walsh described the opening scene that sets the tone for what's to come: Nazi flags are burning, soldiers are returning home and people are waiting in bread lines, all of it communicated through ballet.
"In this show, dance is just as important as the songs and the book," said the dancer. "A lot of it is balletic but there's jazz and tap, too, "organically moving through the show."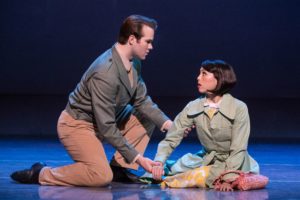 "Not only are the performers working hard but the inanimate objects are also swept up in to the action," she explained. "The dancing feels like it is part of the romantic Parisian landscape."
The basic story is the same as in the film. An American soldier named Jerry Mulligan decides to stay in Paris for a while and pursue his dream of becoming a painter. He gets involved with a group of French artists and supporters and meets Lise Dassin, a ballerina that captures his heart. Like the city itself, these characters are eager to start a new life in the aftermath of WWII.
Walsh credits the time spent in Paris for helping her adopt French mannerisms as Lise, and a credible French accent. An experienced ballet dancer, she had to build up both her acting and especially singing skills for this production. "This musical opened a whole new world to me. Expressing yourself in song, give you a different adrenaline rush than what I experience while dancing," she noted. And she appreciates Wheeldon's approach to the subject matter that's likely to move audiences with a more realistic portrayal of people scarred by war.
Though new musical numbers have been added, songs from the film that are still part of the score include "I Got Rhythm," "S Wonderful," and "I'll Build a Stairway to Paradise,"  as well as memorable orchestral numbers such as "Concerto in F" and the final "An American in Paris."
"I am very proud to have been part of the show for as long as I have," said the dancer. "We'll be exiting on high note. I will be in the last show, closing the U.S. tour (in July). I have had a longer association with the show than any other cast member. It's been a good journey."
———————————————————————————————————
Tickets, starting at $35, are available at www.ticketmaster.com or by calling Ticketmaster at 800-982-2787. You can also buy them in person at the Majestic Box Office, 224 E. Houston St. For information call 210-226-3333. (Photo #3: McGee Maddox and Allison Walsh)