The 22nd Cactus Pear Music Festival will celebrate the 300 years of San Antonio's history by presenting a season of "Three Centuries of Greatest Hits from the Cultures that Shaped La Villa de San Antonio."
Founder and artistic director Stephanie Sant'Ambrogio has put together five different programs featuring 18 outstanding musicians and a mix of composers from Europe, Mexico and the United States, both old masters and contemporary living ones.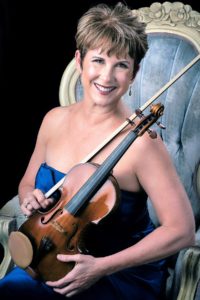 Every program looks like a musical treat, starting with "Mission Baroque" on July 6. One of the pieces, "Trio Sonata in A Minor" for flute, violin, and basso continuo by Georg Philip Telemann, was actually written the year San Antonio was founded – 1718. This program also features chamber music by 17th century composer Henry Purcell, Italian composer Domenico Scarlatti (1685 – 1757), Johann Sebastian Bach (1685 – 1750), as well as Luigi Boccherini's "Fandango" from 1798. Flamenco dancer Belinda Menchaca from the Guadalupe Dance Company will be the featured dancer. A bit incongruously, Astor Piazzolla's "Histoire du Tango" segment is thrown into this Baroque mix, but who could possibly object.
Sant'Ambrogio said she was especially excited to have Korean classical guitarist Kyuhee Park appear in the festival's "Guitarra Classica" program both with her own selections and works chosen by the fest. 'You have to check her out, she is brilliant," said Sant'Ambrogio, an outstanding musician herself and a professor of violin and viola at the University of Nevada -Reno. So, I did, and found out that Park has won nine classical guitar competitions and praise everywhere she goes as the rising star of classical guitar. I also listened to her play on YouTube and, I agree, she is brilliant, a young virtuoso. The CPMF concert featuring Park takes place at the First United Methodist Church in Boerne on July 8. Also on the program, works by living, Cuban-born composer Leo Brouwer, Spanish master Isaac Albeniz, Agustin Barrios Mangore and Alberto Ginastera.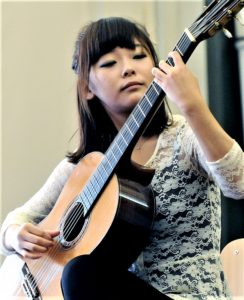 The artistic director also pointed out that the festival's composer-in-residence, Mexican-born L.A. resident, Juan Pablo Contreras, another rising star, is working with the Young Artists Program musicians who will perform his composition "Pueblos Magicos" on July 12 and 14, in New Braunfels and San Antonio, respectively. Joining them will be four members of the Guadalupe Dance Company. Contreras is spending two weeks in San Antonio.
Two other, equally exciting programs, "Cultural Crossroads" and "L'Histoire du Soldat" are also on the schedule, the latter featuring Stravinsky's eponymous suite for piano, violin and clarinet composed in 1918, exactly 200 years after Spaniards first established their presence in San Antonio. An 1818 piece by Johann Nepomuk Hummel is included in "Cultural Crossroads." Living composers on the "Cultural Crossroads" program include Giovanni Sollima with his amazingly moving "Lamentatio" for solo cello, and Mike Mower whose 1994 piece "Sonata Latino" for flute and piano was praised by Sant'Ambrogio.
Some of the works performed at this year's fest can be found on a soon-to-be-released CD "Love Comes in at the Eye" featuring three living American composers, including San Antonian James Scott Balentine. Composed by Pulitzer Prize winner Kevin Puts, the title number was commissioned by CPMF in 2015. Sant'Ambrogio is the featured violinist and bass-baritone Timothy Jones, San Antonio's favorite opera singer is the vocalist. Other musicians on the CD are Carol Cook (viola), Stephanie Jutt (flute), Beth Rapier (cello) and Jeffrey Sykes (piano).
Consistently praised by reviewers, CPMF fills a void in classical music during the summer months and is usually warmly welcomed by growing numbers of music lovers. Which pleases Sant'Ambrogio, the former concertmaster of the San Antonio Symphony. "I am so passionate about this music that I feel our audiences should be as big as the symphony's," she said.
For a complete schedule go to www.cpmf.us.  San Antonio concerts take place at the Concordia Lutheran Church,16801 Huebner; in Boerne, the host is First United Methodist Church, 205 James St.; in New Braunfels, the McKeena Event Center, 801 West San Antonio St.
————————————————————————————————————————-
Photos (from top): Stephanie Sant'Ambrogio; Kyuhee Park