The musical that has seduced audiences all over the world has finally made it to a San Antonio stage courtesy of the Public Theater of San Antonio. Directed by guest director Ken Urso and choreographed by resident choreographer Courtnie Mercer, the exuberant song-and-dance showcase "Mamma Mia!" opens July 6 and runs through August 5 at the San Pedro Playhouse.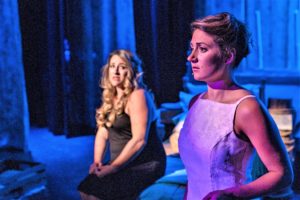 According to published reports, more than 60 million people in 40 countries have seen the show, in addition to millions of others who saw the movie version starring Meryl Streep and Colin Firth. A big part of that success must be attributed to the score which consists of the songs that the Swedish pop/rock group ABBA made popular across the English-speaking world and beyond. In fact, the musical was actually constructed around the songs, rather than the other way around. Credit for that goes to English playwright Catherine Johnson who accepted the unusual challenge to write dramatic developments and create characters who could believably express themselves through ABBA's music and lyrics.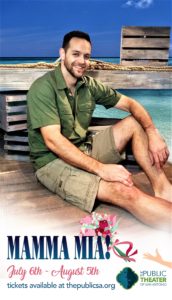 "It's amazing. You would think the songs were written specifically for this show, they fit so well," says the New York-based Urso. "Not only did she write a story that goes with the songs, she wrote a very moving one"
Urso sees the musical as a tale about family and our need to have one. "It's about different kinds of families, the family we are born in. the family we create and the family that fate sometimes creates for us," he says. "But we all need to have a family in some way."
The plot revolves around a young woman named Sophie who is about to get married and would like to have her father "give her away." The problem is, she doesn't know who her father is. Sophie lives with her mother Donna, on a picturesque Greek island where Donna runs a taverna. From her mother's journals, Sophie discovers that three different men could have fathered her and invites all three to her wedding without her mother's knowledge. You can easily imagine the comic potential of such a situation. Donna is not pleased, the men are all eager to perform their fatherly duties, and Sophie's fiancé is confused and angered by the developments.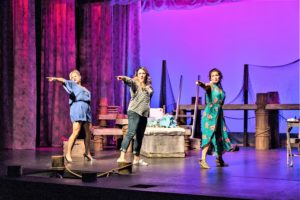 By the time all is resolved, Sophie is a different woman, with a different understanding of family, says Urso.
Among the musical numbers you'll hear from the stage are chart-toppers written by ABBA members Benny Anderson and Bjorn Ulvaeus: "Dancing Queen," "Take a Chance on Me," "Thank you for the Music," "The Winner Takes All" and, of course, the title song.
"Mamma Mia!" is also bursting at the seams with dynamic dance, which choreographer, Courtnie Mercer, describes as "jazz-heavy with a little hip-hop in it, and Broadway moves."
"The show is huge and full of energy," she notes. "I want people to get up and dance with the cast at the end. They will be invited to do so."
And here is how the late veteran dance reviewer Clive Barnes described the show in 2001: "It flies as tuneful as a lark and as smart as a cuckoo. It offers one of those nights when you sit back and let a nutty kind of joy just sweep over you."
(For times and tickets go to www.thepublicsa.org or call 219-733-7258)
——————————————————————————————————————–
Photo by Siggi Ragnar: (from top) Megan DeYoung and Jessi Little as Donna and Sophie; Aaron Ely as Bill, one of Donna's former lovers who may be Sophie's father; DeYoung (in center) with Briane Green and Beth Erwin