Reflection
November 9 @ 7:00 pm
$25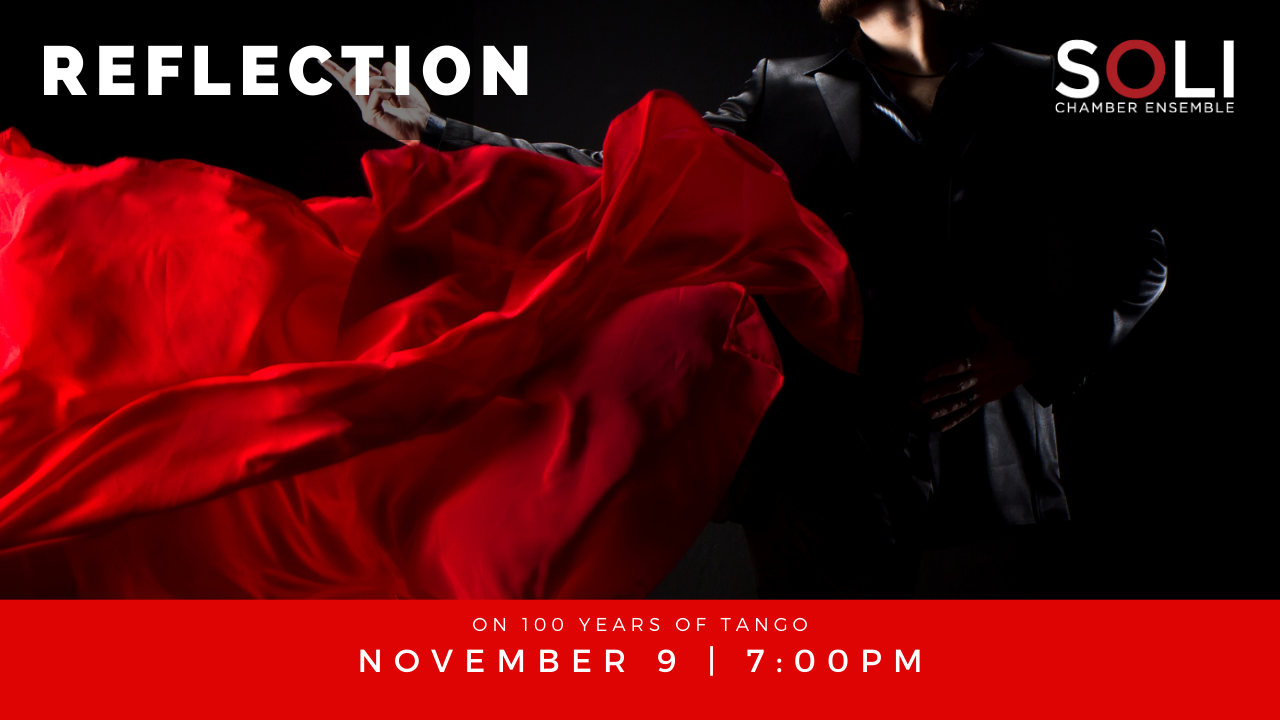 SOLI Chamber Ensemble continues its season with Reflection on 100 Years of Tango – a celebration of Astor Piazzolla's 100th birthday with the colors of movement as heard through music. Works by Piazzolla and arrangements by Clarice Assad and San Antonio composer Aaron Prado complement an evening highlighting the Tango's many hues.
Piazzolla's genius is reflected in the infinite ways he stretched the genre of the Tango, inspiring many to capture their heritage on the creative canvas. Clarice Assad's imaginative arrangements of Los Pajaros Perdidos and Yo Soy Maria explore the nuances of Piazzolla's lyrical lines. Aaron Prado's recent adaptation of his Ofrenda, written in 2015 as a tribute to Frida Kahlo, mirrors the artist's complex and colorful life in the lilting piano waltz and contrapuntal tango. SOLI rounds out the program with an artful selection of Piazzolla's works including the playful Bordel 1900, the majestic Le Grand Tango, and the ever-popular Libertango.
Reflection on 100 Years of Tango will be staged at the McAllister Home on Terrell Road at 7:00 pm and will be preceded by a fundraiser event – Milonga – at 5:00 pm featuring SOLI in performance with Tango artists Kathleen Trenchard and friends. Details and registration for the Milonga are located here.
PROGRAM
Tango – Etude No. 1 (1987) ………………………………………………………………….Astor Piazzolla (1921-1992)
solo clarinet
Bordel, 1900 from Histoire du Tango (1986)…………………………………………… Astor Piazzolla
violin and piano
Oblivion (1982) …………………………………………………………………………………..Astor Piazzolla
violin, cello, and piano
Ofrenda (2015/2021) …………………………………………………………………………..Aaron Prado (b. 1979)
clarinet, violin, cello, and piano
Grand Tango (1982) …………………………………………………………………………..Astor Piazzolla
cello and piano
"Yo Soy Maria" from Maria de Buenos Aires (1968) ……………………………….Astor Piazzolla; arr. Clarice Assad (b. 1978)
clarinet, violin, cello and piano
Los Pajaros Perdido (1976) ………………………………………………………………..Astor Piazzolla; arr. Clarice Assad
clarinet, violin, cello and piano Lyrics by Mario Trejo
Milonga en re (1967) …………………………………………………………………………Astor Piazzolla
violin and piano
Libertango (1974) …………………………………………………………………………….Astor Piazzolla
clarinet, violin, cello, and piano
SOLI Chamber Ensemble has been giving voice to 20th- and 21st-century contemporary chamber music since 1994, mesmerizing audiences for nearly three decades with their engaging performances, ensuring the future of new music through educational initiatives, and continually renewing their commitment to the works of living composers through performances and commissions. Winner of the 2013 Chamber Music America and ASCAP Adventurous Programming Award and a 2020 Chamber Music America Classical Commissioning Grant, SOLI continues to champion new works, new contexts, and new audiences for the music of our time.
SOLI IS…
An avid performer of contemporary music, STEPHANIE KEY is the founding and current Artistic Director of SOLI Chamber Ensemble. She received her BM with Distinction in Performance from New England Conservatory, and she has performed with many orchestras and ensembles across the country and internationally. She is the Interim Second/Utility Clarinetist with the Dallas Symphony Orchestra and a member of the Grand Teton Festival Orchestra. She is currently on leave as Associate Principal and Eb Clarinetist with the San Antonio Symphony and the music faculty at Trinity University. Ms. Key is a Performing Artist/Clinician with Buffet Crampon Music Group.
Turkish-American violinist ERTAN TORGUL balances a full calendar of national and international recital engagements, chamber music concerts, and solo appearances. He has been SOLI Chamber Ensemble's violinist since 1996, served as Artistic Director from 2012 to 2019, and was the group's Managing Director from 2011 to 2020. Mr. Torgul is also a member of the SUONO Duo/Trio, Quartet ES, and Quinteto Quilombo. He serves as Lecturer of violin & chamber music at U.C. Santa Barbara and as Affiliate Artist in violin at the University of Houston.
Cellist DAVID MOLLENAUER received Bachelor and Master of Music degrees from The Juilliard School with Harvey Shapiro and continued his studies with Lynn Harrell at USC. He has performed across the U.S., Central America, Europe, and Asia. An avid chamber musician, Mr. Mollenauer is a founding member of SOLI, Assistant Principal Cello of the San Antonio Symphony, a member of the Grand Teton Festival Orchestra, and teaches cello at Trinity University.
An inaugural member of the Steinway Music Teacher Hall of Fame, prize-winning pianist CAROLYN TRUE is Professor of Music at Trinity University and a core member of SOLI Chamber Ensemble since 1996. She walks the delicate balance between teaching and actively performing solo, chamber, and orchestral repertoire on the national and international stage. Ms. True holds the prestigious Performers' Certificate and a DMA from the Eastman School of Music.
Related Events