The fiery Andalusian art of flamenco has been steadily gaining a following in San Antonio thanks to a growing number of flamenco artists who call San Antonio home and at least two venues – Carmens de la Calle and Espana Bar de Tapas – that present performances on a regular basis. We even have a little flamenco festival, started by aficionado Joel Settles seven year ago. This year he has "passed the baton" to Carmen's owner Paula Sullivan and a group of enthusiastic performers and supporters who renamed the event We Flamenco Fest. It opens Thursday Sept 29 and continues through Sunday Oct.2.
"It's an opportunity to showcase flamenco and to show that there is flamenco community in the city," said Sullivan, "and we also want to show how flamenco has been influenced by a number of other cultures, Indian, Chinese, Peruvian and others."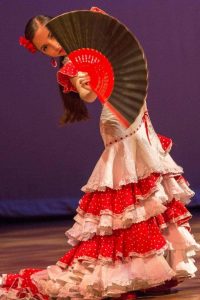 Well-known local dancer, choreographer and producer, Tamara Adira and her Arte y Pasion group, will kick-off the festivities Thursday at the Brick in the Blue Star complex with A Glass of Wine, a series of "lush vignettes that explore the meaning and significance of the experience surrounding drinking a glass of wine." Expressed through flamenco, contemporary dance and performance art, the vignettes cover a range of themes – intimacy, escape, frivolity of a guilty pleasure – as a counterpoint to a world full of alienation and violence. Joining forces with Adira is an impressive roster of artists, including flamenco dancer Bianca Rodriguez, opera singer and performance artist Janese Odom, guitarist Luisma Ramos, modern dancers Stephan Gaeth and Rochelle Banuet, cellist Luke William Bonecutter, violinist Darian Thomas and singer Chayito Champion. Connecting the vignettes by portraying the Glass of Wine will be multidisciplinary artist and Femina-X lead singer Daniela Riojas. The show repeats Friday night at 10 p.m. on an outdoor stage at 329 N Main at Salinas Ave.
Knowing Adira's previous efforts, I can assure you that this Glass of Wine will be heady!
Earlier on Friday, there will a big free event outdoor at Flores & Salinas, with performances, visual art exhibits, vendor booths, etc. Also that night, San Antonio's best flamenco costume designer, Lisa Perello will present the Perello Flamenco Fashion Show at Geekdom Event Center, 131 Soledad. (There's nothing remotely geeky about her fabulous designs!) Just an hour later, the remarkable Austin-based company Flamencura and its founder Olivia Chacon will appear at Carmens de la Calle.
Other established groups taking part in the fest include Raices de Artes Espanol and the wonderful youth ensemble from the Parks & Recreation Department. Many outstanding individual artists will also be featured, in addition to workshops, parties and other activities. To see the calendar of events check the We Flamenco Fest Facebook page. It sure promises to be fun.