Nelda Guerrero Drury, who died last month at the age of 101, was a beloved teacher and leader in the international folk-dance community locally, nationally and beyond.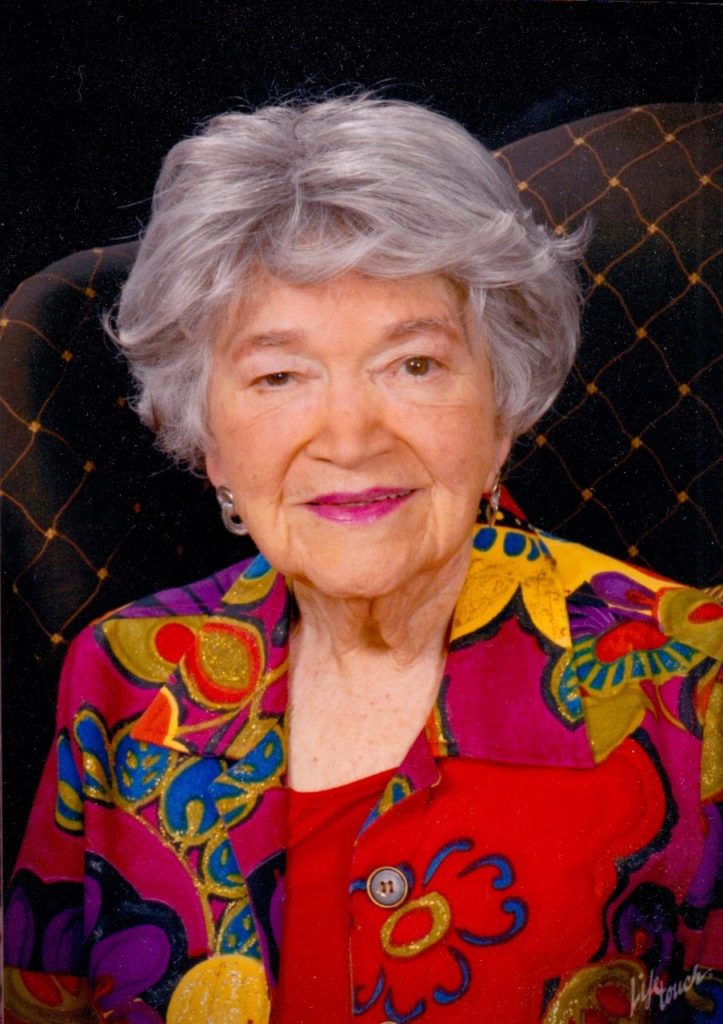 A lifelong dancer, Drury founded the dance department at San Antonio College in 1958, and that same year, launched the first San Antonio Folk Dance Festival, which will mark its 61 anniversary this year, March 15-17 at Our Lady of the Lake University.
"She embraced folk dance forms from all over the world," said her former student and friend Monalisa Montgomery, "and she believed that dancing each other's dances could break barriers and connect people of different cultures."
As a teacher, Drury always presented the cultural context and historical background of a dance in addition to steps and rhythms, and that's something another former student, Andy Taylor-Blenis of Boston remembers with appreciation. She first encountered Drury's teaching style when the latter came to Boston to teach Mexican folklore "like no one had done it before." "What I learned from Nelda has stayed with me," said Taylor-Blenis, herself an enthusiastic dance artist who has taught classes at the San Antonio fest for 12 years.
For her dedication to dance and the community, Drury received a multitude of awards and honors over the years, including the Copernicus Award from the Polish-American Congress in 1974; inclusion in the Texas International Folk Dancers' Hall of Fame in 1977; Lifetime Achievement Award from the Texas Association for Health, Physical Education and Dance in 2000, as well as the Preserving Our Heritage Award given by the National Association of Health, Physical Education and Dance, and a number of others. She was also inducted into the San Antonio Women's Hall of Fame in 2010. The 2018 Folk Dance Festival was an official event of the Tricentennial celebration, with Mayor Nirenberg designating March as San Antonio Folk Dance Festival Month in Drury's honor.
Drury also served as a board member or president of a number of dance organizations in San Antonio and nationally, such as the San Antonio Dance Umbrella, the Texas International Folk Dancers and the National Folk Organization. She taught Mexican and other ethnic dances all over the U.S. and abroad, including at the Summer Graduate Seminar of Dance at Columbia University, the American University in Beirut (Lebanon), the University of Wisconsin, and in Mexico, India and Japan.
According to Montgomery, the beloved teacher stayed in touch with her students over the years and her home was often open to them and other aficionados for informal dance parties. In fact, this writer fondly remembers one such party with a group of Serbian folk dancers from Toronto. Our hostess graciously welcomed everyone and both the novices and the experienced dancers joined in, learning/teaching steps and having fun.
In fact, she was gracious to the end. "I went to see her the morning before she died. She was trying to smile and she thanked me for coming. She was just tremendous!" said Montgomery.
The festival Nelda Drury founded is now run by the nonprofit Heritage Festivals, created by her son James Drury. For more information about classes and the March 16 dance concert go to www.safdf.org or call 210-861-4491. The participating groups are: Komenka Ethnic Dance Ensemble (New Orleans), Ballet Folklorico South Texas (McAllen), Alamotion Dance Troupe (San Antonio) and the Folk Dance Group UZORI (Houston) which presents dances from Russia. The San Antonio Swing Dance Society will do the Lindy Hop. (Thiry Auditorium, Our Lady of the Lake University, 411 SW 24th St., 78207.)
You may want to take a class and join the post-concert dancing. "If people were to hold hands and dance together, there would be fewer wars in the world, Drury used to say. How true!
              ——————————————————
Funeral services for Nelda Drury are scheduled for March 9, 2-4 p.m., at the Covenant Presbyterian Church, 211 Roleto Dr.