THE PUBLIC ANNOUNCES A SEASON OF PREMIERES
The Public Theater's 2019-20 season will be packed with San Antonio and regional premieres, punctuated by a few familiar favorites to provide "a balanced season," said artistic director George Green. "It's one of our objectives to bring to town recent shows to give San Antonians the opportunity to see them at a reasonable price. I like diversified opportunities for both talent and patrons," he added.
In addition, the Public will extend its footprint by staging additional programs in other locations, such as the Buena Vista Theater on the UTSA downtown campus and at the Bonham Exchange.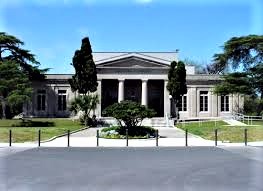 THE RUSSEL HILL ROGERS THEATER
The majority of musicals will be presented in the larger Russel Hill Rogers Theater upstairs, starting with "Mary Poppins" (Sept. 13 – Oct. 13) and ending with Stephen Sondheim's "Into the Woods" (July 10 – Aug. 8). In between, there is a selection of new-to-San Antonio shows including a musical comedy, children's fare and highly praised dramatic musicals.
Here's what's coming up:
"Elf the Musical" (Nov. 22 – Dec. 22) is a family holiday show based on the eponymous 2003 movie that tells the story of Buddy, a boy who makes a big mistake and ends up being whisked away to the North Pole where he becomes one of Santa's elves. After realizing that he is a human, he returns to New York City to find his family and spread Christmas cheer to all. Tickets for "Elf" can be purchased as part of the family show package that includes "Mary Poppins" and "Mathilda" (to be staged later in the current season).
"A Gentleman's Guide to Love and Murder" (Jan. 31 – Feb. 23) Green described this one as a "true musical comedy" and it does sound like a riot. The story revolves around Monty, a fellow who would like to inherit a fortune from a relative but there are too many other heirs in his way. "Non-stop laughs will see the doomed heirs meet their end in the most creative and side-splitting ways," says the press release.
"Bright Star" (March 27 – April 19) This is the show Green praised highly. "Amazing music, beautiful touching story," he said. Steve Martin wrote the book and music with the collaboration of Edie Brickell.
At the center of the narrative is a newspaper editor named Alice who meets a young soldier that triggers her memories of a child she lost much earlier in life. The Broadway production won several awards, including the Drama Desk Award for best musical score (country, bluegrass) and received five Tony nominations.
"Amelie" (May 15 – June 7) is based on the 2001 French film by the same name featuring an odd and shy young woman who performs random acts of kindness and plays games with a young man she is falling in love with. One reviewer described the show as "sweet and tuneful."
The CELLAR SHOWS tend to be smaller and often "more emotionally challenging," said Green. Here is the lineup:
First Date (Oct. 13 – Nov. 17) It's a multilayered story of a date between a man and a woman that also involves their family members, friends and exes who "sing and dance Aaron and Cassey through ice-breakers, appetizers and potential dating disasters."
"The Curious Incident of the Dog in the Night-Time" (Dec.27 – Jan. 19) Based on the famous novel by Mark Haddon, it's a play about an autistic boy named Christopher who, after being accused of killing the neighbor's dog, determines to solve the mystery of the killing, with some surprising results.
"Admissions" (Feb.28 – March 22)The drama by Joshua Harmon explores a very relevant issue in today's America by examining the reaction of a liberal white couple – who have professionally worked to increase diversity at a prep school – when their son is rejected by an Ivy League college in favor of a non-white student. With the college admissions scandal currently in the news, "Admissions" becomes even more interesting. One critic put it aptly: "This meaty… play raises plenty of live-wire issues around race and privilege we can all relate to and need to be challenged by."
"Lonely Planet" (April 24 – May 10) focuses on "the friendship and fear in the age of AIDS."
"More Better Beautiful" (June 12 – June 28) Robert Caisley's comedy was commissioned by the Public Theater as part of the company's Fresh Ink Project. It had a staged reading at the 2018 New Comedies Festival in Sacramento, CA. Described as having "elements of noir and romance," it starts with a young woman waking up to find a stranger sprawled on her living room couch. And the stranger has a twin, too!
"Fade" (Aug.4 – Aug. 30) Through a friendship of a TV writer and a studio janitor, playwright Tanya Saracho looks at issues such as class, race and "how status does not change who you are at your core."
So, which of these shows would Green describe as "not to be missed," we asked. Without much hesitation, he listed "Bright Star," "Lonely Planet" and "Admissions."
ASSITIONAL PROGRAMS
"All is Calm," the moving play about the Christmas Truce of 1914, will be staged at the Buena Vista Theater (Dec. 12 – Dec. 22.)It premiered several years ago at the San Pedro Playhouse and it is truly a must-see (our recommendation). The children's production "Shrek Jr." (performed by youngsters)will also take place at the Buena Vista (June 25- July 9).
"The Rocky Horror Picture Show" (Oct. 25-Oct.26) will be screened at the Bonham Exchange, complete with a "shadow cast" performing live, and audience interaction.
Auditions for all the shows are scheduled for April 25-28.
For ticket packages and single tickets call 210-733-7258 or go to www.thepublicsa.org