Before Giacomo Puccini became a famous opera composer, he was a struggling artist just like the characters in his beloved opera "La Bohème."
"He was a starving artist in Milan for a time," said Opera San Antonio artistic director Adam Diegel, who is also an opera singer. "He was destitute, not able to pay for basics, such as rent and food. He lived the life of these characters. They are all poor but they love what they are doing. Their struggles become the audience's struggles. We can all relate to these characters."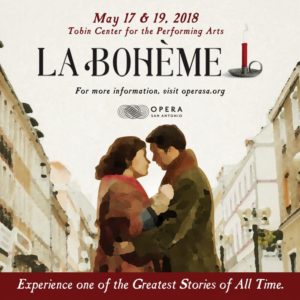 It certainly helps that the hardship and pain are expressed through beautiful music and powerful singing. From the time it premiered in Turin, Italy, in 1896, "La Bohème" has been an audience favorite on two continents, and one of the most performed works in the operatic repertoire. But it has not been staged in San Antonio for a long, long time. The OSA production will have two performances, May 17 and 19, at the Tobin Center for the Performing arts.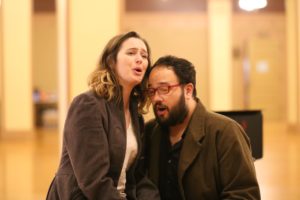 "This version is really dynamic. The cast is young – 26 is the median age – and the energy and the momentum on stage are amazing," noted Diegel, for whom "La Bohème" is "very special" on a personal level, too, because it was the first opera in which he had a leading role. Before taking the helm of OSA, Diegel performed all over the U.S. and abroad, and appeared twice in San Antonio in OSA's past productions of "Carmen" and "Madame Butterfly."
Directed by E. Loren Meeker, "La Bohème" tells the story of a group of young bohemians living in Paris in the 1830s, focusing in particular on the relationship between a young poet named Rodolfo (tenor Derrek Stark), and the embroiderer Mimi (soprano Amanda Kingston). With a group of friends – including Marcello (baritone Daniel Scofield) and Musetta (soprano Jessica Jones) – they are learning how to live, love and grow until Mimi becomes seriously ill and eventually succumbs to her illness.
As in previous years, the sets and costumes for the San Antonio show are borrowed from the Glimmerglass Festival company in Cooperstown, New York, a move that reduces the overall production costs. But each staging is bound to be different, observed Diegel, since each director and cast put their own stamp on it. The opera will be sung in Italian with English supertitles, with live music by the San Antonio Symphony.
To learn more about the genesis of the opera and its times, you can attend a free lecture at 6:30 p.m. before each show. Performances begin at 7:30 p.m. (for tickets call 210-823-8624 or go to www.tobincenter.org)
———————————————————————————————————–
Photos (from top) "La Boheme" poster; Amanda Kingston and Derrek Stark