"La Traviata" is my favorite opera. As a teenager, I received the recording of Verdi's masterpiece as a gift, and I listened and listened to it repeatedly until I could actually sing along with the beautiful voices on the record. Many operas have one or two gorgeous arias but in "La Traviata" grand melodies never stop, even the recitative dialogue between characters is musically expressive. So, I think we should all be grateful to Opera San Antonio (OSA) for opening its 2018-19 season with this musical jewel. Performances are scheduled for Sept. 13 and 15 at 7:30, at the Tobin Center for the Performing Arts.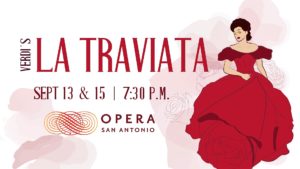 Verdi was inspired to create the opera after he saw a play based on the novel "La Dame Aux Camelias," at a Parisian theater in 1852. Written by Alexandre Dumas Fils, the son of the famous author of "The Three Musketeers," the book and the play told the story of a pretty young courtesan who became the darling of the demi-monde for a few years but died of "consumption" at the young age of 23. Named Marguerite in Dumas' book, the character was based on a real-life courtesan, Marie Duplessis, with whom the younger Dumas had a relationship. (Frantz List was one of her lovers too).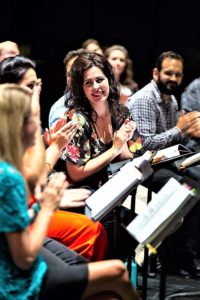 The Italian word "la traviata" means "fallen woman" which is how courtesans were viewed by proper society in the 19th century. Verdi, who at the time lived with a soprano Giuseppina Strepponi without being married, was moved by the heroine's tragic fate. In his opera he renamed Marie/Marguerite Violetta and enfolded her tragic life in glorious music.
"He put his soul into his music," said Garnett Bruce, the director of the OSA production. "It's the most heartbreaking music ever written for the stage."
The opera opens with a party scene where Violetta meets Alfredo Germont and sparks of attraction fly between the two more or less right away. Their love grows and they decide to leave Paris to build a life for themselves in the country.  While happiness fills the air, money becomes a problem as Violetta is supporting them by selling her jewelry and other possessions, without telling Alfredo. Things take a different turn when Alfredo's father makes an unexpected visit to plead with Violetta to leave his son for the sake of his daughter. Namely, the young woman is about to be married but the family's reputation is suffering because her brother lives with a courtesan. Though in extreme distress over losing her happiness, Violetta sacrifices it for the good of the girl she doesn't even know.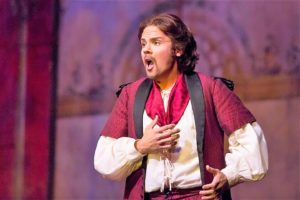 Asked if contemporary audiences may have a hard time understanding the values and mores reflected in this tale, Bruce didn't think so. "I think they see it as old-fashioned rules imposed on a love story, and that has a universal quality to it. Young audiences cheer when Alfredo returns to Violetta for a last moment of happiness together at the end."
Beyond the story, however, "La Traviata" is a spectacular production with a cast of almost 40, talented soloists and fabulous costumes and sets, Bruce pointed out. Rising-star soprano Amanda Woodburry will portray Violetta and San Antonio's native son David Portillo will be Alfredo. Opera News called Portillo one of the "25 brilliant young singers" who has appeared in many opera houses, including the Metropolitan Opera in New York. Both principals also look right for their roles. Weston Hurt will appear as Alfredo's father. All of them will be supported by the San Antonio Symphony playing in the orchestra pit. Bruce also praised lighting designer, Kathryn Eader, chair of the drama department at Austin's St. Edward's University.
"Every time, I enjoy the grand scale of this opera," said Bruce who has directed "La Traviata" several times. "I love the theatricality of it all. The design captures the beauty of the time… and the Tobin is the best place in the country for opera."
For tickets call 210-223-8624 or go to www.tobincenter.org
————————————————-
Photos (from top) "La Traviata" poster; Amanda Woodburry (center) in rehearsal; David Portillo