URBAN !5 RAFFLES OFF CREATIVE HATS
URBAN 15's artistic director Catherine Cisneros is widely known as a dancer and the leader of a vibrant dance and drumming ensemble called Carnaval de San Anto, which enlivens parades, stages and other events with the driving rhythms of samba, meringue, cumbia and reggae. When they perform, you invariably feel an irresistible urge to join them to experience the sheer joy of movement and music.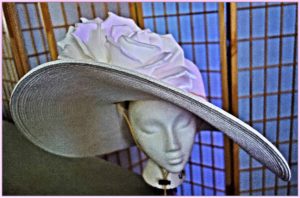 But Catherine is also an imaginative costume designer who makes all shows even more colorful and glam. People love her costumes and ask to buy them, she says.  Well, they now have a chance to do just that. The designer has created a selection of fanciful and whimsical hats that are raffled off each month by URBAN 15.  Conducted online, the first raffle took place in July.  This month, a whole new crop of hats awaits eager raffle players. For a mere $10-ticket, you may become the proud owner of a Catherine Cisneros original!
"I make special ones for the raffle. These are all new things; each is one-of-a-kind creation" says the designer who founded UTBAN 15 with her husband George Cisneros, a musician/composer and brother of former mayor Henry Cisneros. "They (the designs) just appear in my mind."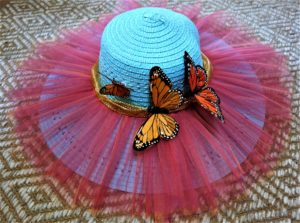 About 25 people took part last month but as the word spreads the numbers are likely to grow.
The theme for the August series is butterflies. And Catherine already has plans for all the remaining months in 2018, including lighted specimens and non-hat clothing garments such as vests for men.
"It's a way to raise some funds but also an opportunity for people to own something I make. They are always bugging me about it," she explains. The first July winner could hardly believe her luck when Catherine called to announce her win. "She could hardly speak. It was really wonderful to see such excitement," she admits.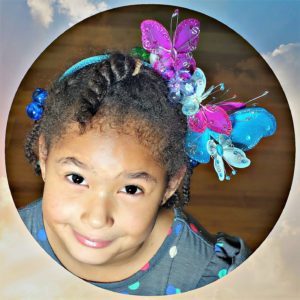 URBAN 15 offers a variety of programs and classes year-round. One addition this year is "Hidden Histories," a magazine-format video series which focuses on San Antonio places and stories in honor of the Tricentennial.  A new episode premieres every first Monday of the month. Tonight's episode, titled "Space is the Place" examines unexplained encounters with UFOs in S. Texas, and features, among others, the famous author of "Communion," Whitley Strieber. You can watch it live at the URBAN 15's studio (2500 S. Presa) or on your own computer, free of charge, at 7 p.m. After an episode premieres, it continues to be available for viewing in the project's archive. To access the screening go to https://urban15.org