Though George W, Bush is not the first American president with artistic skills,*  the body of work he recently created is likely to have a greater impact  than anything produced by previous artistic presidents. Bush's remarkable collection of portraits of military vets who have served our country since 9/11 is a unique endeavor and a powerful expression of respect for warriors who so often remain anonymous.Titled "Portraits of Courage: A Commander in Chief's Tribute to America's Warriors," the exhibit of his paintings opened this past Saturday at the Witte Museum.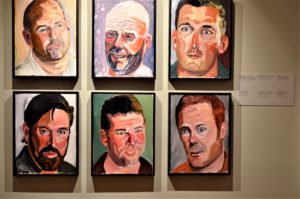 "I painted these men and women as a way to honor their service to the country and to show my respect for their sacrifice and courage," wrote the former president to explain his motivation. "I hope to draw attention to the challenges some face when they come home and transition to civilian life – and the need for our country to better address them"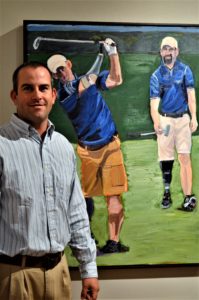 At the Friday morning press preview a couple of vets were present to speak with the media. Among them was John Faulkenberry who currently lives in Boerne with his wife and young son. He is depicted playing golf with another vet, Robert Dove, by his side. Though both men participated in Warrior Open golf tournaments sponsored by the Bush Institute, they were never actually together on the golf course, explained Faulkenberry. The pairing is the product of the artist's imagination, he said. In the painting, Faulkenberry's leg prothesis is clearly visible
An Army vet, who served from 2006 to 2014, Faulkenberry was wounded in Afghanistan when his unit was ambushed by the enemy. He was shot several times in the right thigh, "basically cutting my leg in half" and lacerating his femoral artery. He remembers hearing on the radio someone saying, "We need to get out of here or Faulkenberry is going to die." The road to recovery was arduous, both physically and emotionally. Other portrayed vets have similar stories even those whose wounds were not visible, including Army Sgt. Leslie Zimmerman (pictured below) and Sgt. 1st Class Michael R. Rodriguez (also pictured here).
President Bush met and befriended all of them.
Being painted and helped by the former president is something that Faulkenberry deeply appreciates. "We were honored to serve him (as commander-in-chief) and he is now honoring us," he said. "This has been very exciting."
Every painting in the show is accompanied by a brief written account about the depicted warrior or warriors, written by Bush himself. A book containing all their stories along with the portraits is also available for sale in the gift shop. Altogether, there are 66 portraits and a four-panel mural.
Tough Bush took up painting later in life, with this project, he clearly chose a subject matter close to his heart and created poignant, eloquent images that hold your attention. Spending some time in their presence may lead you to reflect on fate and sacrifice, on war and the consequences of war, and perhaps wonder about what you, and the rest of us, can do to prevent wars and help these former warriors rejoin normal life.
The other artist presidents are Jimmy Carter, Dwight Eisenhower and Ulysses Grant
_____________________________________________________________________________
Members of the military and their families will receive free admission during the weekends of Aug. 18-19 and Sept. 15-16.The exhibit will close Sept. 30. For times and tickets go to www.wittemuseum.org
————————————————————
Photos (from top) Group panel; John Faulkenberry with his painted image on the right behind him (photos by Jasmina Wellinghoff); Leslie Zimmerman; Michael R. Rodriguez (photos by Grant Miller)