The 28th Alamo Theater Arts Council's Globe Awards show is scheduled to take place Sunday, Oct.21, at the Charlene McCombs Empire Theater downtown at 7 p.m. Dubbed "A San Antonio Theater Family Reunion" by the current ATAC board, the event recognizes achievement in more than 25 theater arts categories and offers a unique opportunity for thespians and their admirers to gather and celebrate live theater.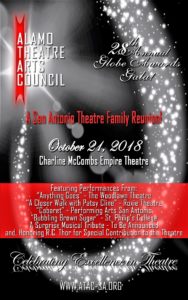 As last year, the show will be emceed by director Tim Hedgepeth and excerpts from several nominated productions will be presented on stage, including scenes from "Anything Goes" (Woodlawn Theater), "A Closer Walk with Patsy Cline" (Roxie Theater), "Cabaret" (Performing Arts San Antonio), "Bubbling Brown Sugar" (St. Philip's College) and a "surprise musical tribute."
Sixty-three plays and musicals were judged this past season and awards are given in acting, directing, set and costume design, musical direction, choreography, original script, overall production quality, etc. The big award of the night, the JASMINA WELLINGHOFF AWARD for Special Contribution to the Theater (see note) will be awarded to veteran actor R.C. Thor.
Now retired from the stage, Thor has performed in more than 100 musical and non-musical productions over several decades, most famously in the role of Daddy Warbucks in "Annie," a part he practically owns, having done it six times. He also enjoyed portraying Fagin in "Oliver." A scholarship in his name – funded by him and others – has been established at the Woodlawn Theater for students of the Woodlawn Academy.
A reception follows the awards show and is included in the ticket price. So, if you want to rub shoulders with the stars of the stage and have fun, this is your opportunity. And you even get a chance to vote for the People's Choice Award!
Tickets $20-$35 at the box office or ticketmaster.com. For additional information go to www.atac-sa.org
Note: Yes, this award was named in my honor as the founder of ATAC. I no longer have any affiliation with the organization.