San Antonio stages are always alive with plays and musicals and two new but very different shows have  just opened this past weekend. Each will have a several=week run.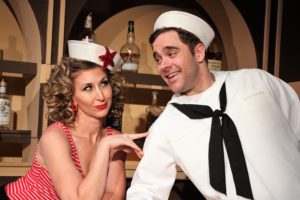 At the Woodlawn, which specializes in musicals, you can immerse yourself in sweet nostalgia with "Anything Goes," the frothy musical romp featuring the beloved songs of Cole Porter, which originally premiered in 1934. The Woodlawn version is based on the 1987 book by Timothy Crouse and John Weidman but the famous songs are the same, including "I Get a Kick Out of You," "It's De-Lovely," "Blow Gabriel, Blow," and the title number "Anything Goes."
The action takes place aboard an ocean liner where a trio of oddball characters collude to break up the relationship between pretty socialite Hope Harcourt and her English nobleman fiancé, because one of the three, Billy, wants Hope for himself. Helping Billy are seductive nightclub singer Reno Sweeney and Moonface Martin, known as Public Enemy # 13, who pretends to be a clergyman to escape capture by the FBI. All sorts of antics ensue as both Billy and Moonface – and his girlfriend – must disguise their true identity.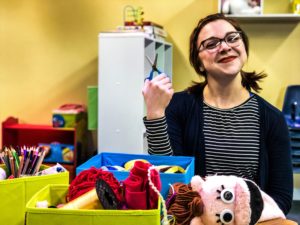 Directed by artistic director Chris Rodriguez, with music direction by Jane Haas, the show has a cast of 25. Choreography is by Carla Sankey who also portrays Reno, and her partners-in-crime are Lucas Poliak as Billy and Michael Parisi as Moonface Martin.
It should be fun! (For times and ticket prices go to www.woodlawntheatre.org)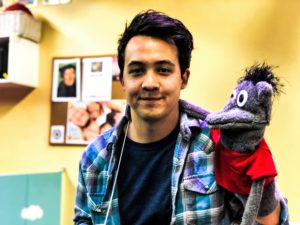 A very different show is currently playing in the Cellar Theater, the downstairs space used by the Public Theater of San Antonio for smaller productions. Written by Robert Askins and directed by Trinity University professor emeritus David Rinear, this is a contemporary romp that no one is likely to describe as light or frothy. With jabs at religion as a framework, the play is a heavily satirical look at a group of mixed-up characters at a small-town Texas church. "Hand to God" enjoyed considerable success on Broadway, receiving five Tony nominations. One critic called it "darkly delightful" while another described it as "uproariously funny at times." Strictly for adults. (www.thepublicsa.org)
——————————————————————————————–
Photos: Courtesy photo "Anything Goes"; Kimberlyn Kacie in "Hand to God"; Nicholas Ponting in "Hand to God."