I may as well say it right away: "The Cherry Orchard" is one of my favorite plays. I still remember a few scenes from a production I saw as a child. Though the subject matter might have been too complex and subtle for a child to fully grasp, the visuals were stunning. I can still see the actress portraying the lead character, Lyubov Ranyevskaya, moving about the stage in an elegant black velvet dress, her figure crowned by a flaming red hairdo, with branches of cherry blossoms seen in the background through two windows.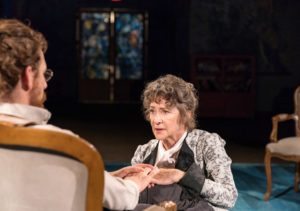 Since then, I have seen several other productions but none has stayed with me the way that first one has. Visual aspects of theater often become victims of tight budgets or, occasionally, of too-zealous designers who want to put their original stamp on a production.
Now, the highly respected Classic Theater of San Antonio has mounted a new version of Anton Chekhov's iconic work and I can't wait to see it. Directed by Andrew Thornton, the cast includes some outstanding actors, including veteran actress Kathy Couser in the lead role.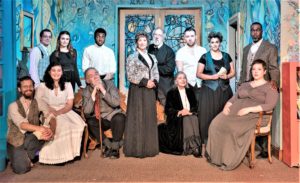 Written toward the end of the great Russian dramatist's life, "The Cherry Orchard" is an elegiac depiction of the disappearing aristocratic world that is being replaced by the new social forces of the late 19th and early 20th centuries. Chekhov reportedly saw his play as a comedy while the legendary Russian director Konstantin Stanislavski, who directed the first production, preferred a more nostalgic, sad interpretation. Though there are moments that can easily elicit laughter – or at least chuckles – the sadness is inherent in the story and the characters.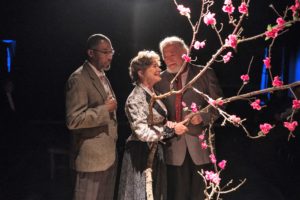 At the center of the action is the aforementioned Lyubov, a middle-aged noblewoman who returns to her ancestral estate in Russia after living in Paris for years. The estate is bankrupt and scheduled to be auctioned off unless the family comes up with a plan to save it. Former peasant boy turned successful merchant, Lopakhin, is willing to lend the family the money to cover the debt but only if Lyubov will consent to have the land – including her beloved cherry orchard – subdivided into lots to be rented as summer homes for tourists. Horrified, she rejects Lopakhin's idea. Additional plans are discussed but family members seem incapable of reaching and implementing a practical solution.
In addition to Lyubov, the Ranyevsky household also includes Lyubov's daughter Anya, her adopted daughter Varya, her brother Gayev, a governess, staff and servants. Collectively, they create a portrait of a historic change, "painted" with exquisitely nuanced precision.
"The Cherry Orchard" is the final show of the Classic's 10th anniversary season. It  closes May 27.
(For tickets and times go to www.classictheatre.org)
—————————————————————————————————————————————-
Photos (from top): Kathy Couser as Lyubov; the cast of "The Cherry Orchard" ;Kevin Majors, Kathy Couser and Michael Howard