A century ago, the last Romanov tsar of Russia and his family were murdered by the Bolsheviks in Yekaterinburg and their bodies were thrown into unmarked graves. But due to the Soviet government's obfuscations about the deaths, as well as other circumstances, a belief spread that the monarch's youngest daughter, Grand Duchess Anastasia had survived. For decades, a woman known as Anna Anderson wanted the world to believe that she was Princess Anastasia.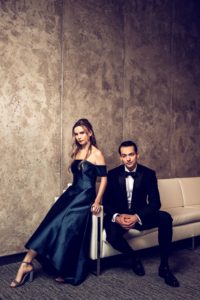 Today we know that Anastasia perished in 1918 with the rest of her family, but creative minds still like to play with the tantalizing possibility that she survived the massacre. The immensely popular Broadway musical "Anastasia," which is based on the eponymous 1997 animated film, is a great example. With productions all over Europe and in Mexico City, and now a U.S. tour, the show is a heartwarming version of the Anastasia mystery and an obvious audience pleaser.
"Audiences go ballistic for it," said Peter Garza, a native of Abilene, who is part of the touring cast. "It's a family-friendly, lovely show about a girl searching for her identity, a poignant story. And it's been exciting for me, personally. I grew up watching the animated film and listening to the music."
Though the reviews have been somewhat mixed, the Wall Street Journal's critic couldn't find enough superlatives to describe it. "'Anastasia' is the real thing! Fantastic, intelligent, well-crafted and exhilarating, 'Anastasia' deserves a crown," he wrote.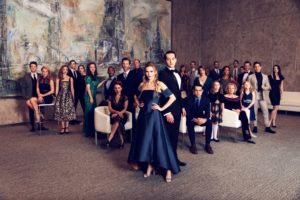 With a book by prominent playwright Terrence McNally and music and lyrics by Stephen Flaherty and Lynn Ahrens, respectively, the story follows a young Russian woman named Anya (Lila Cougan) who has no memory of her past, as she embarks on a journey to discover her roots.
The show opens with a prologue that shows the 7-year-old princess receiving a music box from her grandmother, the dowager empress Maria Feodorovna (Joy Franz) who is about to move to France. Years later, in 1917, the 17-year-old Anastasia is enjoying a ball with all the Romanovs when the festivities get interrupted by invading Bolsheviks intent on killing the family.
"That's my favorite part," said Garza. "Those scenes are very grand, dramatic and almost cinematic looking. Costumes and sets are beautiful and the music is Russian-flavored."
When rumors start spreading that Anastasia may have survived, two con men, Dmitry (Stephen Brower) and Vlad (Edward Staudenmayer) decide to convince Anya, a street sweeper, to claim that she is really Anastasia. Soon after, the young woman finds herself threatened by Gleb, a Soviet official who is trying to squelch the rumors. Eventually, Dmitry, Vlad and Anya make their way to Paris, where they are hoping to arrange a meeting with the dowager empress and receive a monetary award for reuniting her with her "granddaughter."
Things get complicated when Gleb follows them to the City of Lights, romantic feelings develop, and high-class Parisian life begins to swirl around them.
A number of beloved songs from the animated film have been retained, such as "Journey to the Past" – which earned an Oscar nomination for Best Original song in 1997 – but many new numbers have been added as well. The touring show is pretty faithful to the Broadway original, noted Garza, though some tweaks were necessary due to technical reasons and one song "Crossing a Bridge" was dropped to shorten the show a bit. Even so, it's about two-and-a-half hours.
For Garza, performing at the Majestic will be a special treat. He remembers coming to San Antonio as a 12-year-old to see "Wicked" at the Majestic. "I love San Antonio and this will be my first time to perform in that beautiful theater," he said.
"Anastasia" will have 8 performances at the Majestic Theater, Feb.5-10. Purchase tickets online at www.ticketmaster.com or by calling Ticketmaster at 800-982-2787. Also at Majestic box office in person, only. Call 210-226-3333 for information.
——————————————————-
Photos (from top) Lila Cougan and Stephen Brower as Anya and Dmitry; Cast of "Anastasia"