"Imagine a moving altar of Muerto characters wearing vivid masks, large sugar calavera heads and flowers – but dancing down the street…"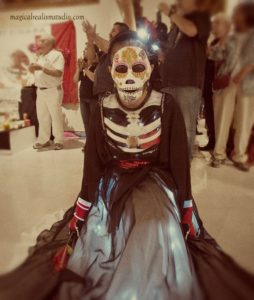 That's how URBAN 15 is describing its famed dancing and drumming performers who will make up the Carnaval de los Muertos this weekend to mark the All Saints Day and All Souls Day in a tradition that fuses Christian and indigenous Mesoamerican practices of remembering the departed.
The 26-member "moving altar" will perform its drum-driven ceremonial dances in three different places on Friday, Nov. 2. The first appearance is scheduled for 7 p.m. in Hemisfair Park, starting at the Institute of Texan Cultures and dancing down to the Mexican Cultural Institute. Then, they'll be magically transported (just kidding!) to the Centro Cultural Aztlan to join that organization's Altares y Ofrendas event at 8:30 p.m. (1800 Fredericksburg Rd., Ste.103). If you miss those two, you get a third chance to see them at 10:30 p.m. at the Lone Star Art Space, just south of downtown (107 Lone Star Blvd.) Well, a little magic may help considering the tight scheduling!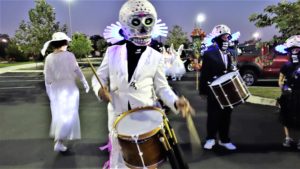 As a special tribute to their own family members, the performers embellish their costumes with pictures and other mementos of the loved ones who have died. It's a unique, moving performance conceived and created by choreographer Catherine Cisneros and musician/composer George Cisneros.
Another Dia de los Muertos celebration will take place at Market Square throughout the weekend, with altars, music, food booths, processions and a film screening. The procession by the Las Monas group, with giant puppets, dancers and drummers, is scheduled to start at 5 p.m. Saturday and 1 p.m. Sunday.  The popular and award-winning film "Coco," which was inspired by the Dia de los Muertos holiday, will be screened Friday night at 8 p.m.
And still more festivities are planned at the Guadalupe Cultural Arts Center.  Beginning at 6 p.m. Friday, the program includes a launch of a book about voting rights activist Willie Velasquez, craft workshops and folkloric dances and mariachi music performed by the young artists of the Guadalupe Academy. Altars honoring the dead will be displayed in the Galeria Guadalupe (723 S. Brazos) and members of the public are invited to bring photos to place on the Community Altar. The altar exhibition will stay open until Nov. 21. (for more info visit www.guadalupeculturalarts.org