Music, music everywhere!
While Camerata San Antonio is wrapping up its Tricentennial concerts today, two other organizations are stepping forward into the limelight this week – the Olmos Ensemble and Musical Bridges Around the World which is presenting its fifth International Music Festival through Feb.4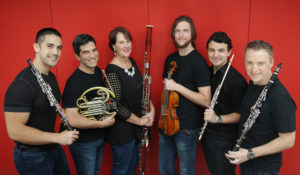 Calling its 2017-18 season "European Excursions" The 6-member Olmos has so far explored the Baroque period, and "Scandinavian Landscapes," and is now tackling not-to-be-missed "French Delights." The concert takes place Monday, Jan. 29 at the Laurel Heights United Methodist Church (227 W. Woodlawn Ave., 78212) Seven composers are represented, including Claude Debussy, Camille Saint-Saens and Francis Poulenc, but there are also less frequently played ones such as Eugene Bozza, Emil Palidilhe and Philippe Gaubert. The concert will open with Darius Milhaud's "Suite d'après Corrette" for oboe, clarinet and bassoon, and conclude with Poulenc's beautiful Sextet for Piano and Wind Quintet.
Led by artistic director Eric Gratz, the members of the quintet are: Mark Teplitsky (flute), Paul Leuders (oboe), Ilya Shterenberg (clarinet), Sharon Kuster (bassoon) and Jeff Garza (horn). They will be joined by pianist Cristopher Guzman.
For this occasion, the ensemble has partnered with Lily's Cookies to serve its products during intermission, and with the Niche Clothing Company which will give a $50 gift certificate to one lucky winner. Admission is by donation, with $15 suggested for adults and $10 for students.
As for MBAW's International Fest, it consists of several days packed with original, innovative music – and some dance- performed by artists from China, the Czech Republic, Spain and the U.S. Today's event, America's Jazz Icons: Billy Hart Quartet takes place at 3 p.m. at the Empire Theater. All performances are free and admission is on a first-come, first-serve basis. You can also reserve orchestra seats for five concerts for $95 but those may be sold out by now. To check call 210-464-1534.
More about the fest tomorrow.