San Antonio is blessed to have several outstanding chamber music groups that greatly enrich the musical life of the city and one of the best will present three concerts in the next couple of days.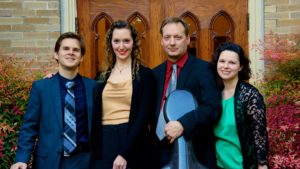 The Grammy-nominated Camerata San Antonio is starting the new year with "Camerata Salon – Tricentennial Edition" that features "miniature masterpieces" by a range of composers from multiple cultural backgrounds to represent the people who have built San Antonio over the course if its 300 years of history. A number of them are 20th century and even contemporary composers such as Osvaldo Golijev from Argentina, Arturo Marquez from Mexico and Friedrich Kreisler from Austria. But others are well-known superstars like Manuel De Falla, Sergei Prokofiev and Claude Debussy.
"We have a great range of styles and composers to reflect the cultural mix of San Antonio," said Camerata's co-founder cellist Ken Freudigman. "Also, San Antonio likes celebrations, so a lot of the music we chose reflects that; it's festive music. We even have a mariachi piece that was transcribed for a string quartet. Choosing this program led us into areas we had not looked into before."
Another convenient discovery was De Falla's "El Amor Brujo" which the Spanish composer adapted for a string quintet and piano in 1926. The Camerata members will be joined on stage by pianist Viktor Valkov. "It was great to find something like that," said Freudigman, who is also the principal cellist of the San Antonio Symphony.
In fact, all the chosen pieces are "new for us," he noted, meaning the group had never played them before though individual musicians might have with different partners. In its 14-year history, Camerata has performed some 500 works, of which only five were performed more than once.
Freudigman's personal favorite on the Tricentennial program is Japanese composer Toru Takemitsu's version of the romantic old song "Autumn Leaves." "It's an unbelievable arrangement," he said.
The other three core members of Camerata San Antonio are Emily Watkins Freudigman (viola) and violinists Anastasia Parker and Matthew Zerveck.
Tonight's concert: 7:30 p.m. at the First United Methodist Church in Boerne, 205 E. James St; Saturday: 3 p.m. at the First Presbyterian Church in Kerrville, 800 Jefferson; Sunday: 3 p.m. at the UIW Bennack Concert Hall, 4301 Broadway. For ticket information go to www.cameratasa.org
                    Photo: Camerata San Antonio quartet